1 1/2 inch (40 mm) Wide Leather Dog Collar with Vintage Conchos for Doberman
Do you want to buy a high-quality and Super Stylish Leather Collar for your dog? Well, you have a chance to do it right now! This Fashion Leather Collar with conchos is practicable, durable, quality, glamorous! It is perfect for Doberman, choose it for your dog!
This Collar is wide enough, so there is almost no risk that the dog's neck will be damaged because he pulls hard. Besides, the Collar won't tear and a D-ring (for tags and leash) is riveted to hold forever. Due to buckle, this Leather Collar is very simple in use. It will take you only several seconds to put the Collar on and off.
Silver-like Conchos have a rich silver color which goes well with the collar's color. The collar is available in black, brown and tan. This collar is available in different sizes from 16 to 40 inches and can be easily adjusted if your dog gains his weight.
The Collar is made of very strong, specially selected leather, that is extremely durable, but soft. No doubled up fillers or machine stitches, so the edges won't fray. Circles are hand set with brass rivets.
Hand set brass rivets secure the nickel plated buckle and D-ring. They are rust-proof and will serve for many years.
Make your order now and get this Designer Leather Collar for your Doberman!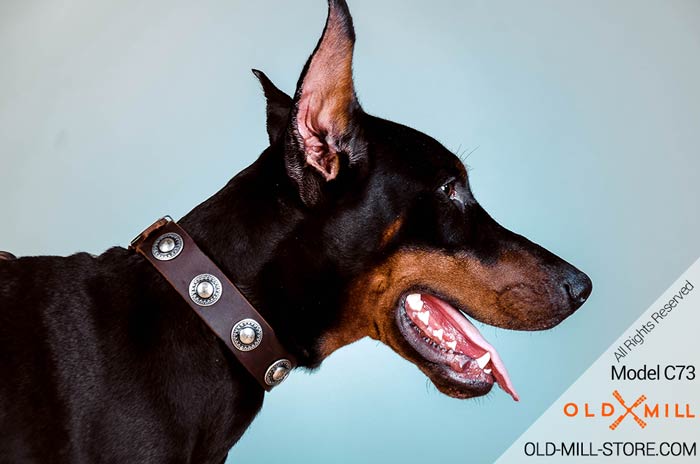 Doberman Collar with Silver-like Conchos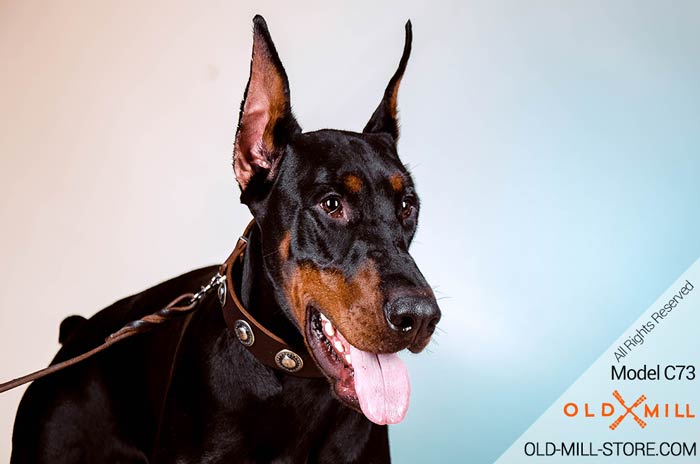 Vintage Dog Collar for Doberman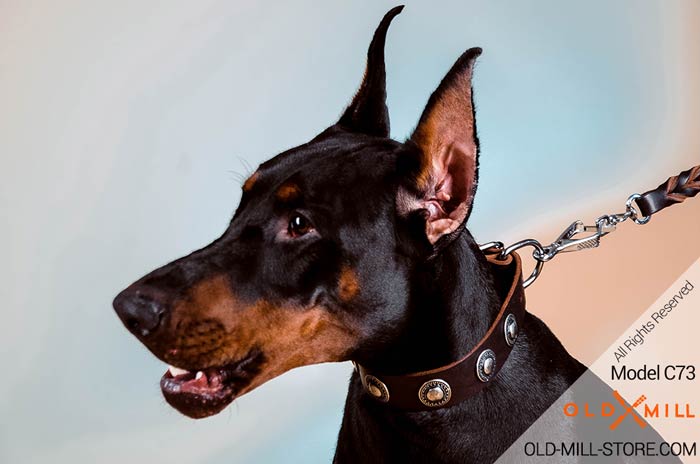 Soft Leather Walking Dog Collar with Strong D-Ring for Doberman