1 1/2 inch (40 mm) Wide Nappa Padded Leather Doberman Collar
Our web store presents a lot of handmade gears suitable such a strong canine as Doberman, but here you can see one of the best. It is a truly astonishing piece of art, made of sturdy genuine leather, padded with a super soft support material, finished with exclusive designer's decoration and equipped with heavy duty hardware.
Do you want to get a collar that will be comfortable as well as stylish training equipment?
This Braided Leather Doberman Collar will surely correspond your requirements. The undeniable advantage is Nappa leather padding which is super soft to touch, thus helps to avoid skin irritation.
The collar itself is made of 100% full grain leather, it is stitched and riveted to be strong and reliable, so it will last for many years. A strong hardware and the decorative studs and plates are crafted of brass, known for gold-like shine and resistance to rust and corrosion. A traditional buckle fastens the collar reliably to make you sure that the tool will never unlock accidentally.
Be sure, it is a worthy decoration for your graceful Doberman, as the leather strap is inlaid with carefully crafted braids, fixed with rustproof rivets. Let your dog look like a million dollars.
Our customers often send us photos to boast of their gorgeous pets, wearing this cool design dog collar.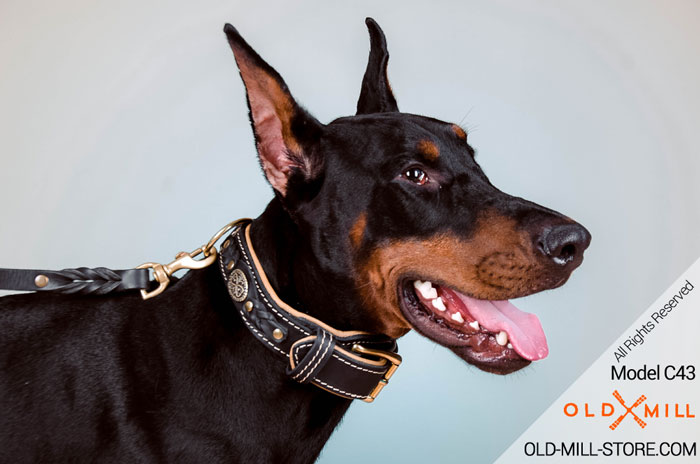 Leather Dog Collar with Nappa Padding for Doberman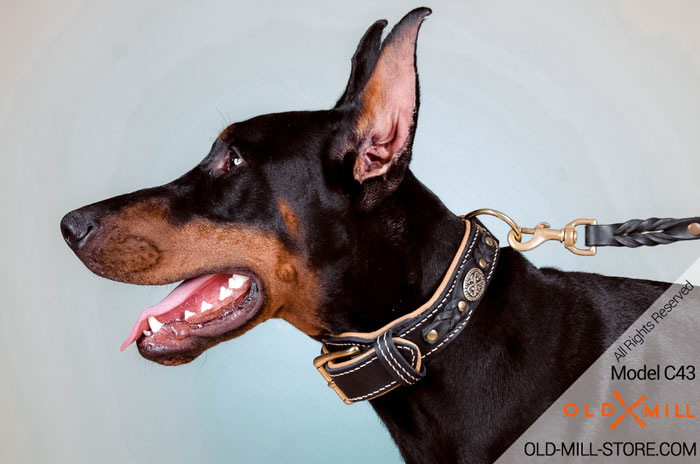 Handcrafted Doberman Collar with Braids and 2 Antiqued medallions