2ply Leather Dog Collar with Fur Protection Plater for Doberman
The quality of this collar is really high! It was tested many times and even such active dog as Doberman will not break it. This item will serve your dog really long even if you use it every day.
This collar is made of carefully selected, 2 ply full grain genuine leather, so during wearing it your dog will not feel this collar on his neck. Moreover, your pet will forget about such problems as skin and fur damaging, allergies and hair loss. Besides, the leather is soft and pleasant to touch and thanks to it you will forget about your pet's discomfort during training sessions.
The collar will be fixed on your dog`s neck due to a brass buckle. For better protection of your Doberman, the collar is equipped with a special fur protector, which does not allow to damage fur and skin during agitation work when your pet pulls hard. Your Doberman will feel comfort during any activity, whether it is training, walking or socializing. The collar will not bother your dog and will not disturb him.
The width of the collar is 1 3/4 inch (45 mm). This collar is available in different sizes from 17 to 40 inches and can be easily adjusted if your dog gains his weight.
Black or brown - what color is the best match for your Doberman?
To make training process more effective, you, dear dog owner, should take correct measurements. Please remember that the collar should be neither loose nor tight on the dog's neck.
If you want this collar to serve your pet during a long period of time, then follow some simple rules how to take care of leather things: first of all do not dry leather things up on radiator or in direct sunshine. Secondly, do not allow the leather to become dusty and wet, if the collar is wet wipe it with napkin and dry it at room temperature. Thirdly, it is better to keep leather in a fabric bag.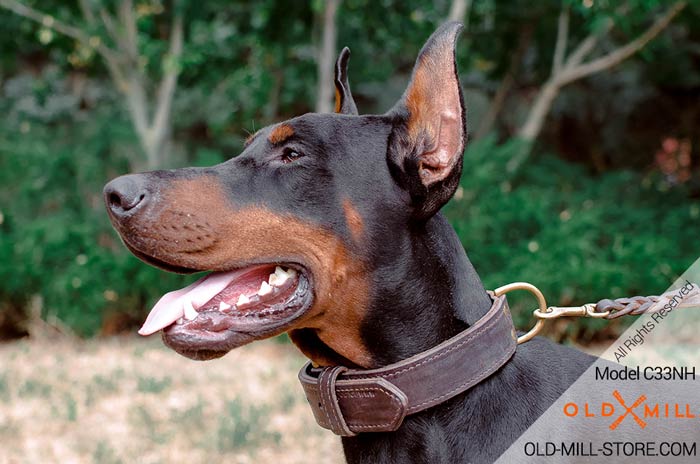 Doberman Dog Training Collar with Fur Protection Plate

Extra Strong Leather Doberman Collar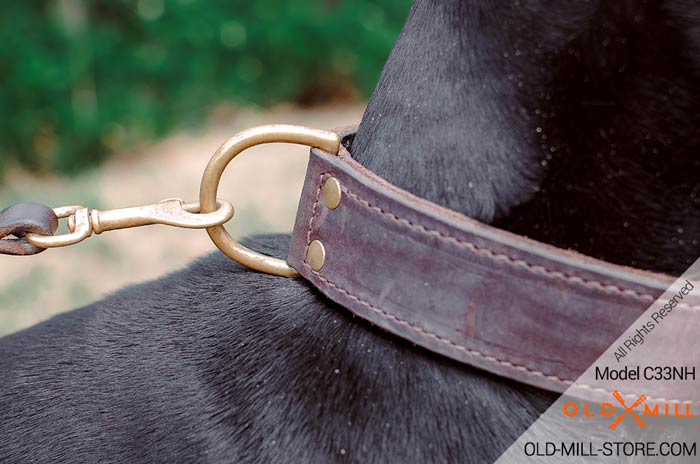 2ply Leather Dog Collar with D-Ring for Leash Attachment
If you need a collar which combines the best features that a collar should have, then this collar is exactly what your dog needs.