1 inch (25 mm) Braided Leather Choke Collar for Doberman
This Doberman Choke Collar is made of high quality genuine leather, perfectly oiled, stitched and braided by hands for better durability. It is a universal supply, so you can use it both for training and walking in public places. Get it now and see yourself all its beneficial characteristics!
This Choke Collar is made of high quality genuine leather, safe for dog's health and very practical in use. This dog item won't probably break or tear and will serve your dog for years. Leather is extra soft and pleasant to touch, so there will be no skin rubbing and irritation.
This Dog Choke Collar is equipped with two O-shaped rings made of rust and corrosion resistant brass. Due to this material they will keep their golden-like shine for many years.
When using this Collar it will be much easier for you to cope with your beloved Doberman's behaviour. It will be perfect choice for dog transporting, for visiting public places because when your pet tries to run forward, the Collar restraints him.
The item is available in black, brown and tan colors!
Measure your dog carefully and order the size from 14 to 40 inches.
NB!
Don't leave your dog wearing this Choke Collar without supervision.
Measure your doggy carefully to order the right size of the Collar.
Remember that such kinds of collars are not suitable for puppies under 6 months.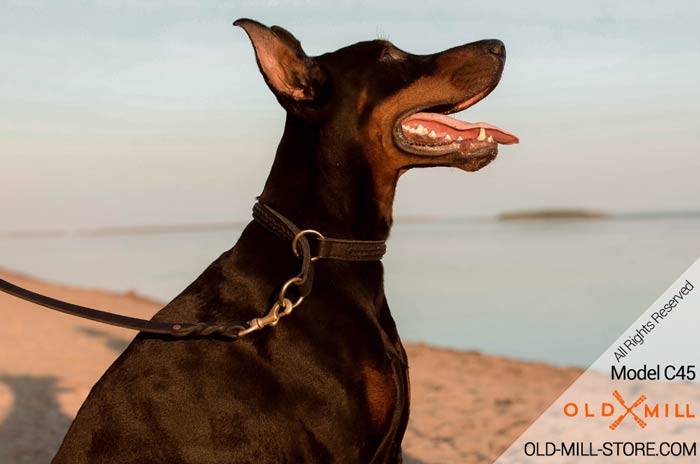 2ply Choke Dog Collar for Doberman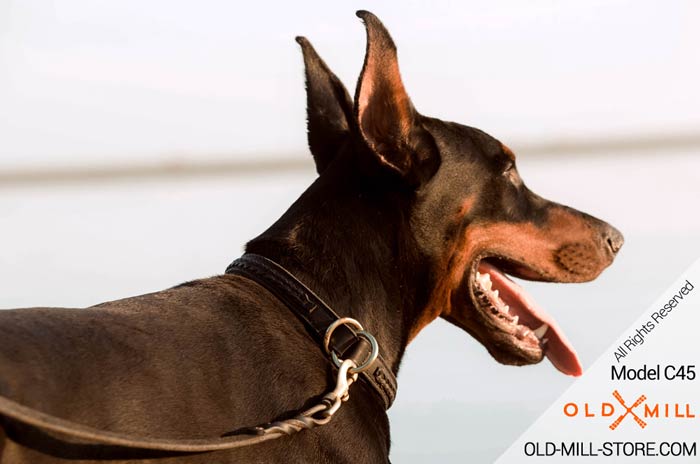 Brass Rings on 2ply Leather Doberman Collar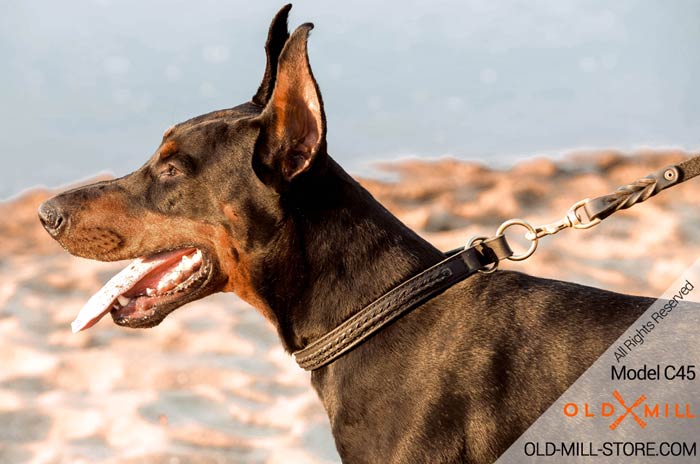 Doberman Collar for Handling large and active breeds
Ready to ship in 3-7 business days
Dear Customer,
Please, pay your attention that the production time of the different collars/leashes may vary
from 3 to 7 days
.
Each collar/leash you choose is
handcrafted
. So, the production time depends on the complexity of the design you prefer.
Thank you for your interest to our products and for your understanding of the painstaking process.
As a result you will get a
designer's exclusive dog gear
.
Shipping cost for the USA orders
| Order total | $0-$6.98 | $6.99-$20 | $20.01-$98 | $98.01-$199 | $199.01-$349 | $349-UP |
| --- | --- | --- | --- | --- | --- | --- |
| UPS ground (1-5 business days on average) | $4.99 | $6.49 | $9 | $14.90 | $19.90 | $19.90 |
| USPS air delivery (3-5 business days on average) | $18.99 | $18.99 | $18.99 | $24.90 | $29.90 | $34.90 |
Shipping cost for International orders (outside the USA)
| Order total | $0-$6.98 | $6.99-$20 | $20.01-$98 | $98.01-$199 | $199.01-$349 | $349-UP |
| --- | --- | --- | --- | --- | --- | --- |
| USPS air delivery (3-7 business days on average | $27.95 | $27.95 | $27.95 | $44.90 | $49.90 | $59.90 |