1 1/4 inch wide Studded Leather Dog Collar for Doberman
This Doberman collar is reliable, durable and soft at the same time - no wonder that genuine leather is so popular in dog training equipment craft as it is so gentle for the dog! The collar is comfortable as it prevents rubbing, irritation, intertrigo, skin rashes, discomfort from wearing into the skin etc.
Please note, the collar is 1 1/4 inch (30 mm) wide - optimal width for the product to look gorgeous and to cause no choking when the dog pulls the leash.
Studded with brass pyramids the collar looks really fantastic. It creates the impression of luxurious accessory with elements of danger and impudence. The collar is amazing in its look and so safe at that. Brass material is rather hyloallergic, it is corrosion resistant and strong. All metal parts are carefully attached to the leather by means of hand set rivets that prevent accidental removal. Please, note that buckle and D-ring are brass and hand riveted as well so their reliability is so much increased.
Please, be advised that:
This collar will serve you much longer if you treat it properly. Thus, it is not recommended to expose the collar to water or heat influence as both can lead to cracking. The collar needs to be lubricated with leather conditioner at least once in several months or more frequently if it is required. You can also use water repellent to increase water resistance of the collar.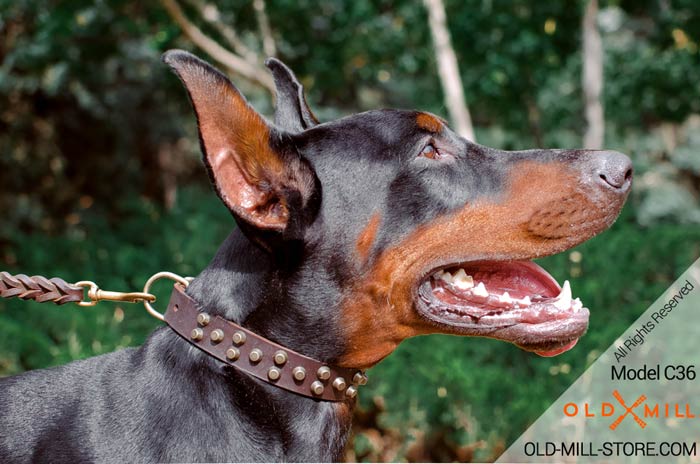 Studded Leather Doberman Collar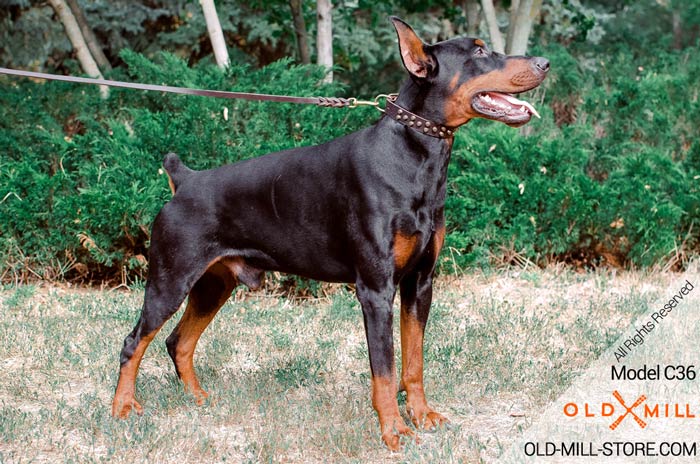 Doberman Handcrafted Collar with D-ring for Leash Attachment
Ready to ship in 3-7 business days
Dear Customer,
Please, pay your attention that the production time of the different collars/leashes may vary
from 3 to 7 days
.
Each collar/leash you choose is
handcrafted
. So, the production time depends on the complexity of the design you prefer.
Thank you for your interest to our products and for your understanding of the painstaking process.
As a result you will get a
designer's exclusive dog gear
.
Shipping cost for the USA orders
| Order total | $0-$6.98 | $6.99-$20 | $20.01-$98 | $98.01-$199 | $199.01-$349 | $349-UP |
| --- | --- | --- | --- | --- | --- | --- |
| UPS ground (1-5 business days on average) | $4.99 | $6.49 | $9 | $14.90 | $19.90 | $19.90 |
| USPS air delivery (3-5 business days on average) | $18.99 | $18.99 | $18.99 | $24.90 | $29.90 | $34.90 |
Shipping cost for International orders (outside the USA)
| Order total | $0-$6.98 | $6.99-$20 | $20.01-$98 | $98.01-$199 | $199.01-$349 | $349-UP |
| --- | --- | --- | --- | --- | --- | --- |
| USPS air delivery (3-7 business days on average | $27.95 | $27.95 | $27.95 | $44.90 | $49.90 | $59.90 |