1 1/2 inch (40 mm) Leather Dog Collar with Vintage Decorations for Siberian Husky
This leather dog collar was made of the finest full grain leather and furnished with handmade nickel plated hardware. Antiqued old brass plates were chosen as decoration. Amazing plates with columns of nickel pyramids in between.
Great exterior of this collar is the reason for purchase of this dog wear. This is the collar that suits Husky dog breed splendidly. Symmetrically set wide hand polished plates evoke the antiquity, make us remember about the historical period without passing which we would never have been born. Silver colored nickel pyramids installed in columns go well with flat gold colored brass plates. The decoration favorably exhibits craftsmanship and good taste. Distinguished decoration-rich and elegant.
Because of careful burnish of leather surface this collar is smooth as silk; leather edges are rounded to prevent your dog's skin rubbing. Since the model was developed just for Husky dog breed it was made in accordance with his anatomical peculiarities.
A well-thought design of the collar is a guarantee of utmost comfort while wearing it. Husky wearing this collar will be able to focus on any task; his joyful pastime will not be alloyed by wearing this collar. Made of the finest materials the Husky Breed Vintage Collar does not cause allergy. Smooth clean hardware will never hurt anyone either.
This item is available in black, brown and tan colors. When ordering online mark the color you want to get!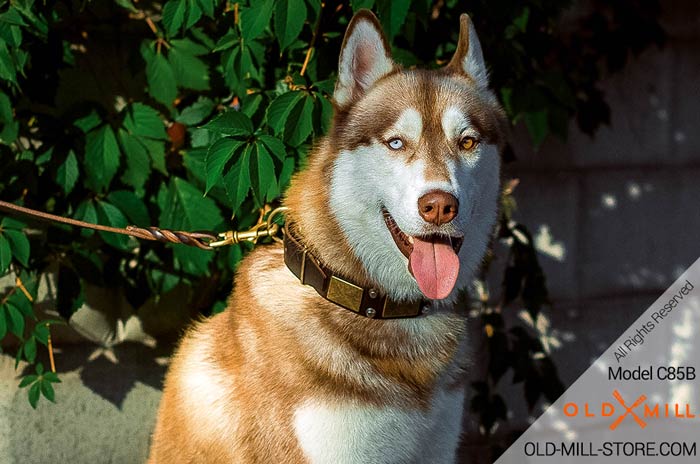 Rottweiler Collar with Massive Vintage Plates and Pyramids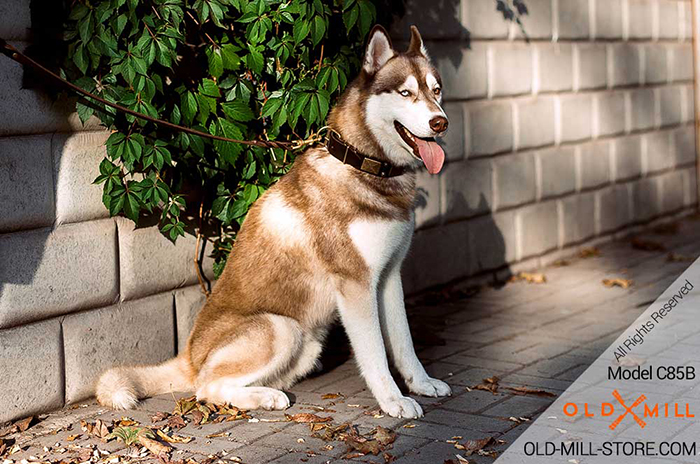 Inimitable Husky Dog Accessory with Decoration

Wide Husky Collar with Durable D-Ring
Ready to ship in 3-7 business days
Dear Customer,
Please, pay your attention that the production time of the different collars/leashes may vary
from 3 to 7 days
.
Each collar/leash you choose is
handcrafted
. So, the production time depends on the complexity of the design you prefer.
Thank you for your interest to our products and for your understanding of the painstaking process.
As a result you will get a
designer's exclusive dog gear
.
Shipping cost for the USA orders
| Order total | $0-$6.98 | $6.99-$20 | $20.01-$98 | $98.01-$199 | $199.01-$349 | $349-UP |
| --- | --- | --- | --- | --- | --- | --- |
| UPS ground (1-5 business days on average) | $4.99 | $6.49 | $9 | $14.90 | $19.90 | $19.90 |
| USPS air delivery (3-5 business days on average) | $18.99 | $18.99 | $18.99 | $24.90 | $29.90 | $34.90 |
Shipping cost for International orders (outside the USA)
| Order total | $0-$6.98 | $6.99-$20 | $20.01-$98 | $98.01-$199 | $199.01-$349 | $349-UP |
| --- | --- | --- | --- | --- | --- | --- |
| USPS air delivery (3-7 business days on average | $27.95 | $27.95 | $27.95 | $44.90 | $49.90 | $59.90 |