1 inch (25 mm) wide Best Collar for Husky
This item will meet the highest demands of the dog owner, because of it's quality, beautiful design and incredibly durable material. You can be sure, that the collar won't tear or lose it's form.
This leather dog collar with studs is just what your dog needs for everyday activities. Only 100% full grain leather was used for making this collar. Leather is a very practical material as it is perfect for producing dog walking and training equipment. High quality leather causes no allergy, irritation, rash or other skin problems.
The hardware of the Collar is made of nickel plated steel - rust and corrosion resistant material. The buckle fixes the collar on the dog's neck and the whole procedure of putting the accessory on and off takes only several seconds. The D-ring is big enough for you to be able to attach the lead quickly. The fittings are riveted for additional strength.
This narrow Collar has no doubled up fillers or machine stitches, thus nothing will happen with the edges of this item. They won't fray and this Leather Husky Collar will look like newly bought for years.
Nickel plated studs will look like jewellery on the neck of your Husky. A luxurious exterior of this Collar will demonstrate everybody how highly you appreciate your dog. Each stud is handset with rivets and will hold almost forever!
The item is available in black, brown and tan colors to give you opportunity to accentuate a beautiful color of your Husky's fur.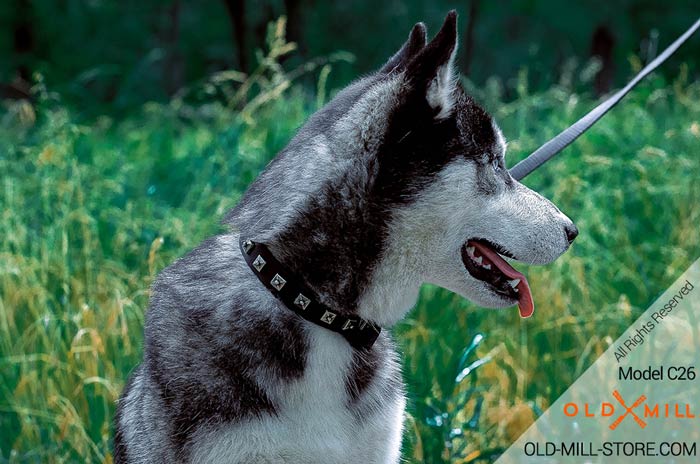 Black Leather Dog Collar for Siberian Husky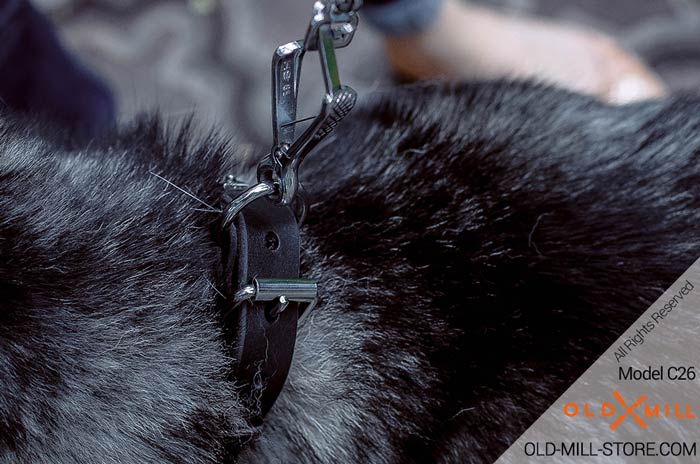 Husky Collar with Strong Buckle and D-ring for Leash Attachment
If your main purpose is to buy a quality and stylish collar for your pet, then order this supply