1 inch (25 mm) Braided Leather Choke Collar for Siberian Husky
Easily manipulating with the two rings at either end you make this collar work in different ways. Braided part will make this training means look sophisticated.
Attaching a lead of your dog to the dead or floating ring you get a simple buckle collar that does not tighten. On the contrary, if you connect dog's leash with the other ring - live one, you will have a choke collar that will tighten depending on the leash's tension. This gear is meant for strong and hyperactive canines who happen to be naughty and ill-behaved. This is extremely durable equipment that will not tear when your pet pulls into it. At the same time, the leather is smooth and soft and does not irritate the skin.
The braided part is fixed with metal rivets for additional durability. It was handcrafted to be pleasing to the eye, comfortable for your Dog and suitable for your purse.
This collar is made of soft durable leather that is approved to serve you for years, and it will not lose its shape. It will not probably cause any discomfort even though it is a choke collar. This collar is quickly released not to hurt your Husky neck. Its special golden ring allows you to join one of the great leashes to this collar.
Please be advised that:
When buying choke collar you should take into consideration the widest part of your Dog's neck and head circumference.
Depending on the sizes you give us we make the best fit collar.
If you have a puppy be ready that he will outgrow the size of a collar and you will have to get the bigger one.
Available colors of the collar are black, tan and brown.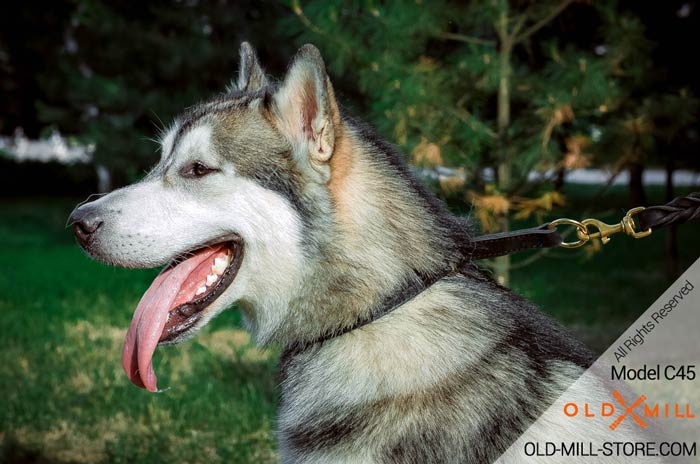 2ply Choke Dog Collar for Malamute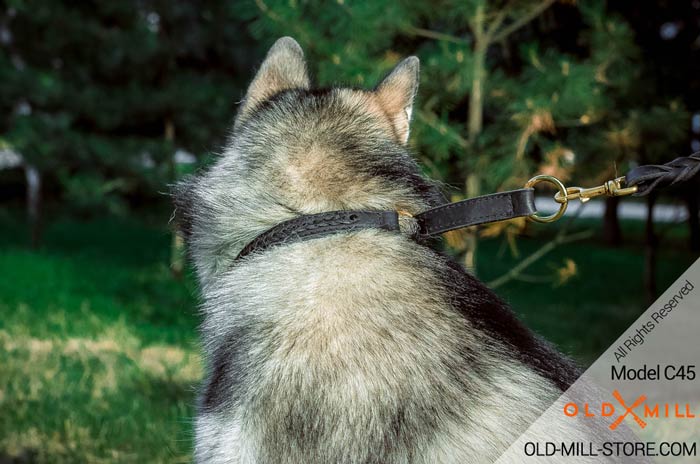 Brass Rings on 2ply Leather Husky Collar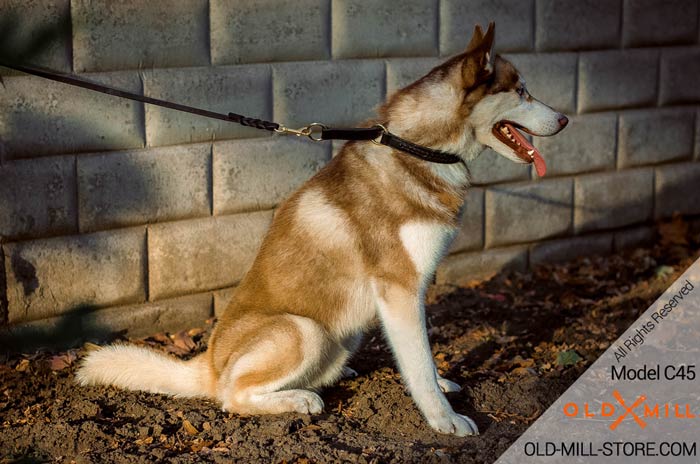 Braided Leather Husky Collar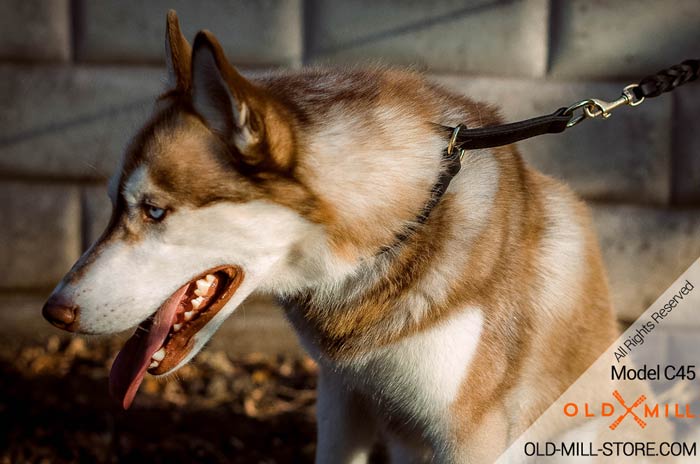 2 ply Choke Collar for Husky
Ready to ship in 3-7 business days
Dear Customer,
Please, pay your attention that the production time of the different collars/leashes may vary
from 3 to 7 days
.
Each collar/leash you choose is
handcrafted
. So, the production time depends on the complexity of the design you prefer.
Thank you for your interest to our products and for your understanding of the painstaking process.
As a result you will get a
designer's exclusive dog gear
.
Shipping cost for the USA orders
| Order total | $0-$6.98 | $6.99-$20 | $20.01-$98 | $98.01-$199 | $199.01-$349 | $349-UP |
| --- | --- | --- | --- | --- | --- | --- |
| UPS ground (1-5 business days on average) | $4.99 | $6.49 | $9 | $14.90 | $19.90 | $19.90 |
| USPS air delivery (3-5 business days on average) | $18.99 | $18.99 | $18.99 | $24.90 | $29.90 | $34.90 |
Shipping cost for International orders (outside the USA)
| Order total | $0-$6.98 | $6.99-$20 | $20.01-$98 | $98.01-$199 | $199.01-$349 | $349-UP |
| --- | --- | --- | --- | --- | --- | --- |
| USPS air delivery (3-7 business days on average | $27.95 | $27.95 | $27.95 | $44.90 | $49.90 | $59.90 |