1 1/4 inch (30 mm) Wide Studded Leather Dog Collar for Husky
This gear combines the highest quality and fair price. The collar has advantages for both of you: you are pleased by reasonable price, durability and happy face of your pet, and your doggy will say thank you for comfort, safeness, non-toxic and non-allergic stuff. It is an ideal outfit for everyday walking and obedience training. This collar is probably the best choice for you and your dog!
Due to the highest quality materials used for this gear's fabrication, this supply is non-toxic. There is no terrible smell from the collar and it won't cause any irritation.
This collar is very durable. Made of 100% genuine leather and rust-proof fittings, this collar will serve you for years. This collar is extra wide, so you can easily handle your active Siberian Husky. The edges of the collar are polished, so it won't rub or cut into your pet's skin, if the size is chosen correctly.
This collar will emphasize uniqueness of your Siberian Husky. 3 rows of hand-set riveted studs make the collar very special. Premium quality leather won't cause any irritation or allergy. Your Siberian Husky will be safe in this collar.
The collar has nickel plated steel D-ring for easy leash attachment, 5 holes and steel nickel plated buckle for better adjustment. The strap can be regulated to the dog's neck.
Do not worry - metal parts of the collar won't rust ever!
Three colors available! You can choose black, brown or tan color of the collar according to your Siberian Husky's fur.
Choose an appropriate size, which can vary from 14 to 40 inches.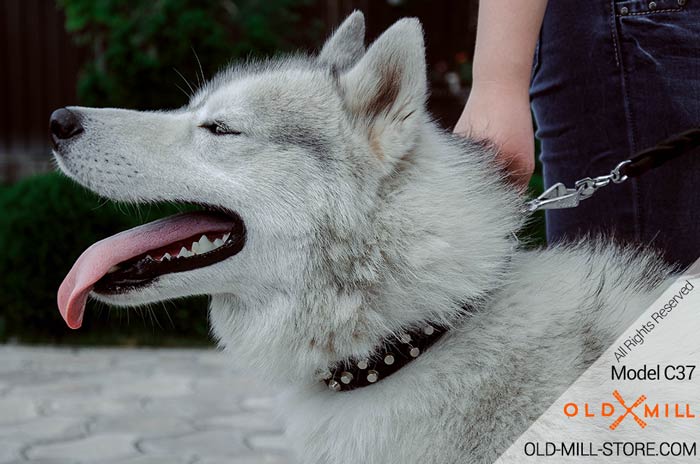 Studded Husky Collar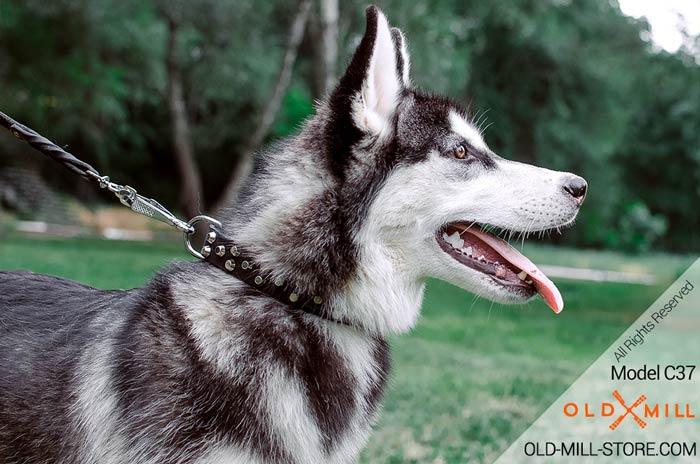 Black Collar for Siberian Husky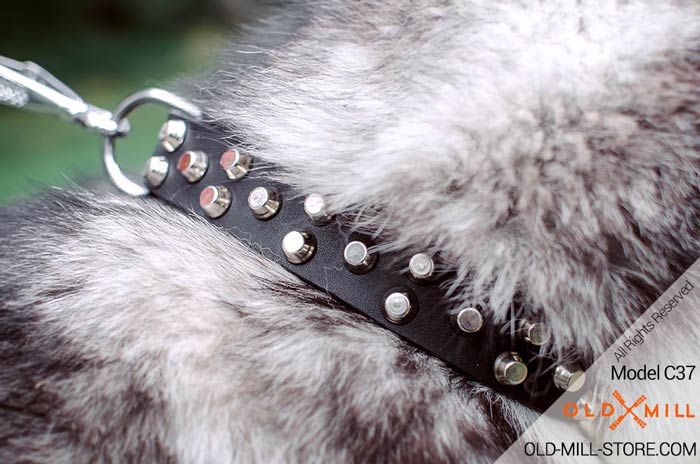 Leather Dog Collar with Nickel Studs and D-Ring for Leash attachment