1 1/2 inch (40 mm) wide Leather Dog Collar with Flame Pattern for Bullmastiff
This collar is a perfect means of control, showy walking wear, educative facility, etc. With this gear, you will know such precious features of a product as quality, practicability, functionality, safety and many other desirable characteristics.
Special water resistant paint and secret technique were used to make this Collar. The paint is non-toxic and absolutely safe for your dog. Besides, it doesn't fade in the sun, so your dog may spend time both swimming and bathing or doing whatever you allow him to do. The tracery will remain to be a perfect decoration for this Collar.
When producing this Collar, nickel plated hardware was used to make the equipment serve for a long time. Due to nickel plating, the fittings of this Collar are resistant to rust and you will be able to use this Collar longer. A nickel plated buckle and D-ring are very durable and add to the stylish look of this Hand painted Leather Collar.
There is a wide range of sizes, which vary from 14 to 40 inches. Besides, there is an option to order a matching leash for this collar. Buy this Leather Dog Collar for your Bullmastiff management!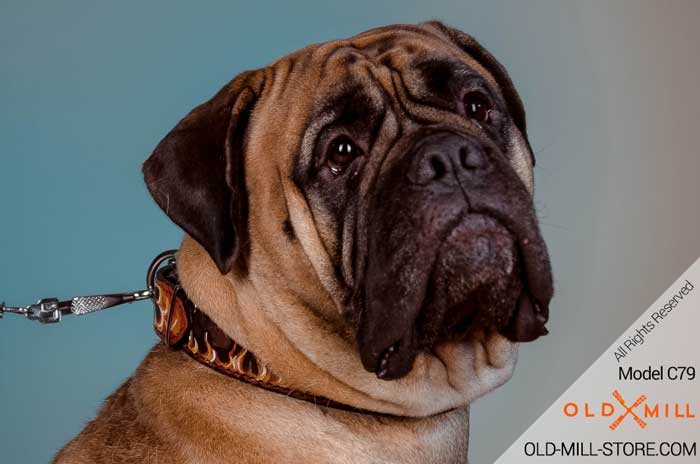 Handcrafted Designer Leather Dog Collar for Bullmastiff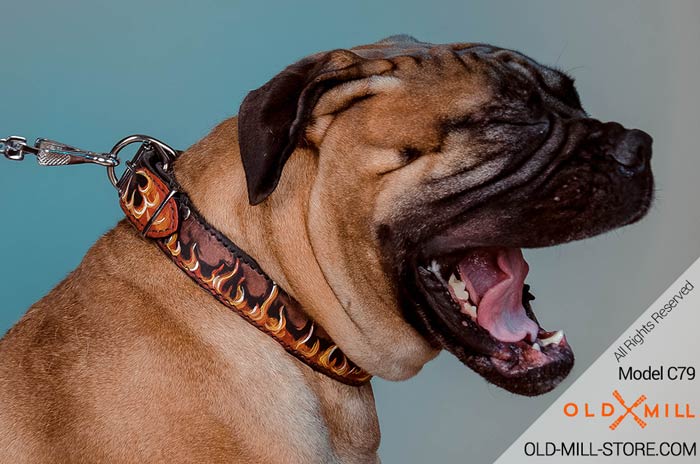 Hand Painted Leather Bullmastiff Collar
Ready to ship in 3-7 business days
Dear Customer,
Please, pay your attention that the production time of the different collars/leashes may vary
from 3 to 7 days
.
Each collar/leash you choose is
handcrafted
. So, the production time depends on the complexity of the design you prefer.
Thank you for your interest to our products and for your understanding of the painstaking process.
As a result you will get a
designer's exclusive dog gear
.
Shipping cost for the USA orders
| Order total | $0-$6.98 | $6.99-$20 | $20.01-$98 | $98.01-$199 | $199.01-$349 | $349-UP |
| --- | --- | --- | --- | --- | --- | --- |
| UPS ground (1-5 business days on average) | $4.99 | $6.49 | $9 | $14.90 | $19.90 | $19.90 |
| USPS air delivery (3-5 business days on average) | $18.99 | $18.99 | $18.99 | $24.90 | $29.90 | $34.90 |
Shipping cost for International orders (outside the USA)
| Order total | $0-$6.98 | $6.99-$20 | $20.01-$98 | $98.01-$199 | $199.01-$349 | $349-UP |
| --- | --- | --- | --- | --- | --- | --- |
| USPS air delivery (3-7 business days on average | $27.95 | $27.95 | $27.95 | $44.90 | $49.90 | $59.90 |