1 1/2 inch (40 mm) Wide Leather Dog Collar with Painting for Bullmastiff
This collar is 1 1/2 inch (40 mm) wide that makes it a proper accessory for handling strong canines. Wide collar causes less stress on the neck of your dog so your pet feels much more comfortable.
Leather buckled collar is always popular because it is a time-proved durable accessory with a secure fastener. This classy model of collar is made of high quality materials and at a decent price. Pro makers use special water resistant paint and secret technique to make this one of a kind gorgeous collar. It is great gear for walking, handling or training of your Bullmastiff.
The main characteristics of this Handpainted Leather Bullmastiff Collar:
Carefully selected materials are used for the production of this collar. The materials do not contain toxic substances that may be harmful to your dog's health. This collar is extremely durable and comfortable due to the thick natural leather that almost does not stretch. No double fillers or machine stitches. The collar is hand-stitched and will not ravel out on the spur of the moment.
The item is painted by hands. The paints are also non-toxic. This means that the collar will not cause allergies.
The fittings are steel nickel plated, that means they are strong and corrosion resistant. The hardware will remain shiny for a long time. The supply is also equipped with a D-ring that allows easy and fast leash attachment.
There is a wide range of sizes, which vary from 14 to 40 inches. Besides, there is an option to order a matching leash for this collar. If you need a strong, stylish, durable and comfortable collar, order this item!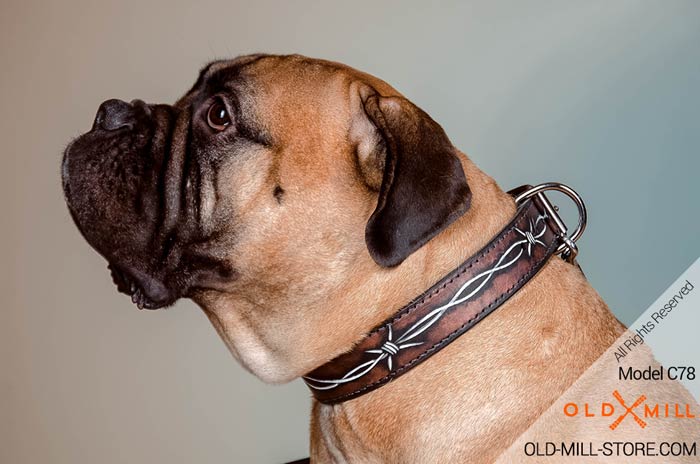 Bullmastiff Leather Dog Collar with Painting