1 inch (25 mm) wide Leather Dog Collar decorated with old nickel-plated square studs for Bullmastiff
So if your Bullmastiff pulls too hard, don't worry he won't be able to tear the Collar apart. Besides, natural leather is a very soft material, so your pet won't feel any discomfort while wearing it.
All the fittings of this Collar are rust and corrosion resistant because they are steel nickel plated.
The special buckle and D-ring for leash attachment are strong and durable, so your canine will not be able to break off the leash. While walking or training you can fully rely on this wonderful gear. Unbelievable tensile strength, glittering effect and classy design are combined in this awesome dog collar!
The decoration - nickel plated studs are also rustproof and hand-set with rivets for extra durability. They will beautifully sparkle on your pet's neck! To achieve maximum comfort, these studs are polished and won't result in any harm.
This leather collar is smooth and all the edges are beveled and buffed to satin smoothness. Such a collar will deliver only pleasure and joy to your pet.
The item is available in black, brown and tan colors to give you the opportunity to accentuate a beautiful color of your Bullmastiff's fur.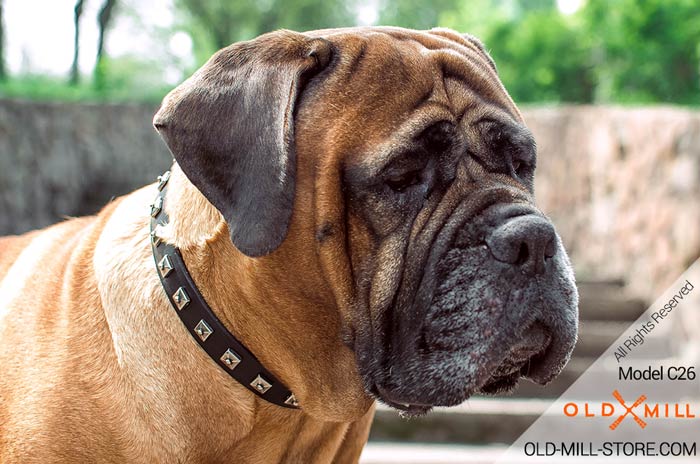 Designer Leather Dog Collar for Bullmatiff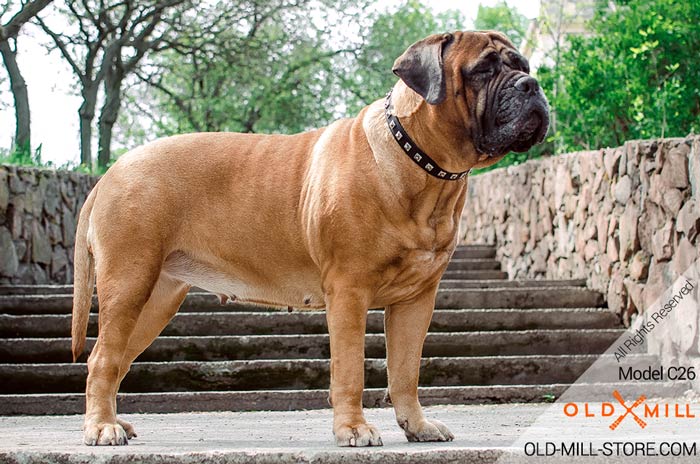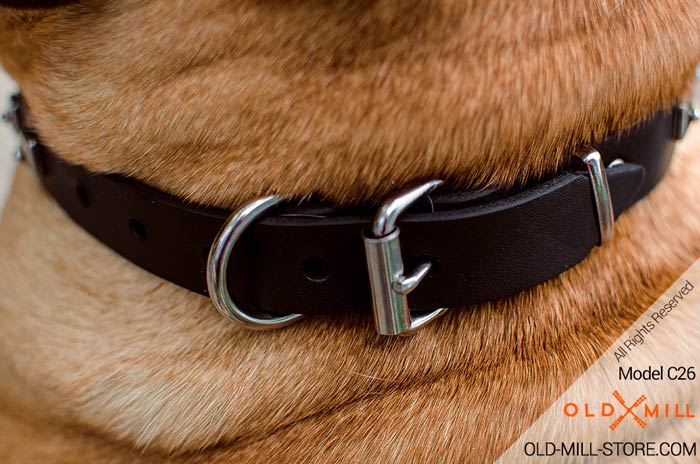 Strong Buckle Collar and D-Ring
Please, do not forget that full grain genuine leather demands proper treatment. Use water repellent and leather conditioner to protect it from external influence.
Also, we recommend to keep it far from any source of heat that can dry it out and clean without water. If it happened that the collar got wet, let it dry naturally.