1 1/4 inch (30 mm) Wide Bullmastiff Collar for Walking
This Leather Bullmastiff Collar is good for any purpose owing to its design and quality. It can be used while walks, training sessions, travelling or just handling your pet. Extra durable stuff is able to withstand pulling of your powerful canine. The tool won't tear or break. So be sure that your Bullmastiff and people around him are in safety. Keep your beloved Bullmastiff in safety with this Fantastic Leather Collar!
Everything in this item is made for your Bullmastiff to feel safe and comfortable as it is made of 100% full grain leather and strong brass hardware. The gear has a strong buckle due to which you can adjust the collar according to your pet's dimensions. Moreover, all the metal parts are rust resistant. Nothing will spoil an attractive look of this accessory.
Style. The collar is decorated with pyramids. Due to this decoration your Bullmastiff will be always in fashion. Besides, smooth polished dull pyramids won't prick or injure your four-legged friend. It is your pet who will look amazing and will be in spotlight anywhere he/she goes.
Comfort. Stylish collar is useless if it is uncomfortable. This canine supply has a perfect width. It has polished edges. Thus, this item won't make pressure on your doggy's neck. Wearing it, your Bullmastiff will feel comfortable. He/she will be protected from rubbing, skin irritation or cutting into the skin.
You can choose the color of the item (black, brown or tan) and make a choice in the size range from 14 to 40 inches.
This Leather Dog Collar is exactly the tool that will perfectly fit your furry friend! It is fashionable, high quality, very simple in operation and reliable in any situation.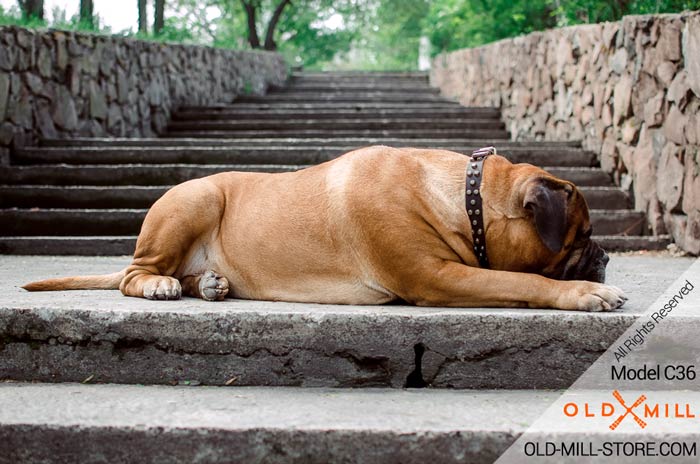 Studded Leather Bullmastiff Collar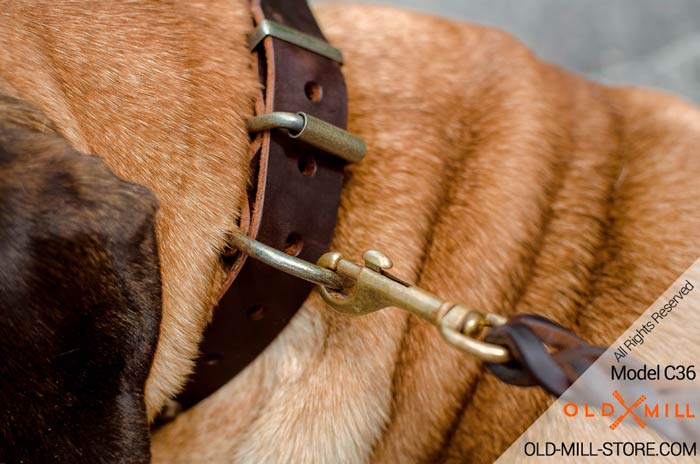 Bullmastiff Collar with Strong D-ring for Leash attachment