1 1/2 inch (40 mm) Wide Leather Dog Collar with Vintage Conchos for Shar Pei
You are offered Super Comfortable and Top Quality Leather Collar. Irritation, allergy, rubbing, toxic smell have nothing to do with the product. No skin problems are caused by this supply. Yet it is a super strong accessory that will not tear under loads of even a hyperactive pet.
Your Shar Pei will enjoy every second of his life with this collar. It is wide enough to fit his neck as good as possible without wearing into the skin.
This dog equipment is made of 100% genuine leather. It is very soft, but durable at the same time. Buying this top quality collar you get safety of your dog first of all. Isn't it the main criterion for you?
This tool is perfect for walking, training, socialization and so on. The collar is available in three popular colors: black, brown and tan. The collar's sizes differ from 16 to 40 inches.
Awesome silver conchos is a unique detail in this collar. Owing to them, this piece of equipment is pretty special and you will hardly find dog breeder handling the dog with such a collar.
Handset circles are secured with brass rivets to hold forever. A handmade hardware is a steel nickel plated one consisting of a traditional buckle and welded D-ring.
This item is the most important for your Shar Pei. You dog needs comfort and this collar can give it to him. It is super wide and won't do any harm to your pet, even when he pulls hard.
Get this collar and your dreams of ideal collar will come true!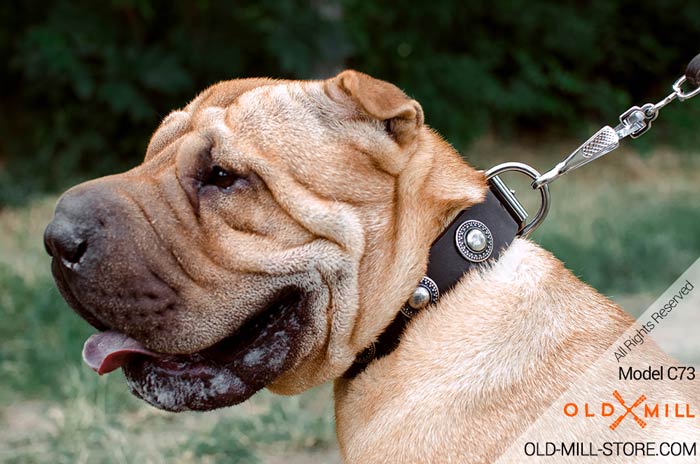 Mastiff Collar with Silver-like Conchos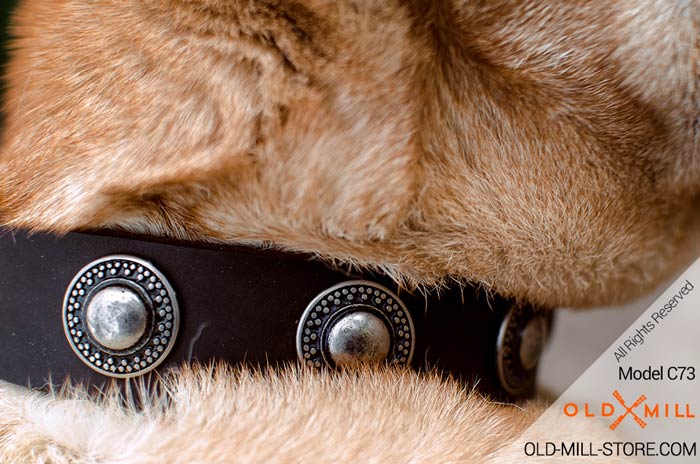 Leather Dog Collar with Old Nickel Conchos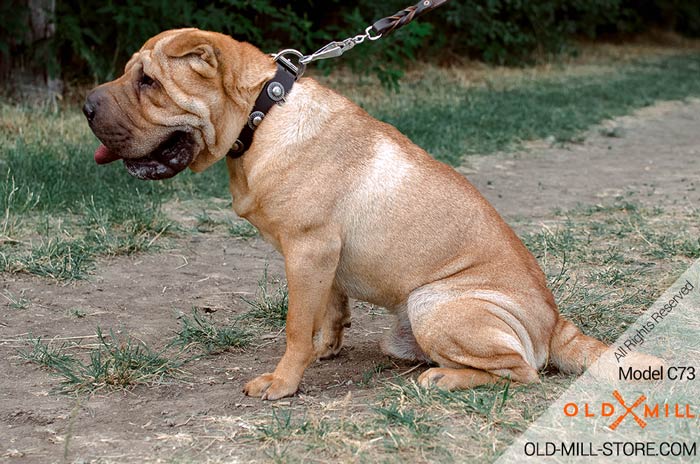 Awesome Leather Dog Collar for Shar Pei Training and Walking