1 3/4 inch (45 mm) wide Braided Leather Dog Collar for Shar Pei
Skillfully crafted handmade braids are duly riveted to never come out. The more often your dog wears this collar, the greater your love for this unique training and walking tool. Wear and tearproof, fully adjustable and easy-to-use. With a bit of care from you, it will serve you for years.
Available in two popular colors: black and brown.
No synthetic parts are contained in the product - only natural hand-selected genuine leather - the only leather that does not break down with time. Carefully crafted braids were cleverly inlaid along the leather strap.
Top quality brass hardware was manually crafted. Gold colored brass hardware makes the product precious and rich-looking. Cupped handset rivets are symmetrically arranged over the leather strap. A D-ring meant for leash attachment is securely welded to withstand various tensile stresses when Shar Pei badly pulls on the leash fixed to the Ring. Extra strong traditional buckle is riveted as well. When connected, a solid buckle will never unlock independently as it is the most reliable type of fastener.
Having this collar on, your pet he will not get nervous as no skin irritations, skin rubbing or other kinds of discomfort are caused by this handmade wear.
To have your dog's fur protected in the best way, you are recommended choosing right this Braided Dog Soft Neck Collar. The protector helps to keep the dog's fur in good condition - shiny and healthy.
The collar's sizes range from 18 to 40 inches.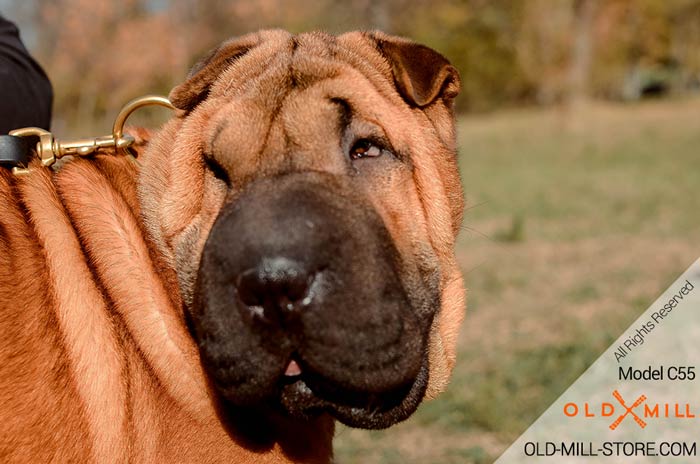 2ply Leather Dog Collar for Shap Pei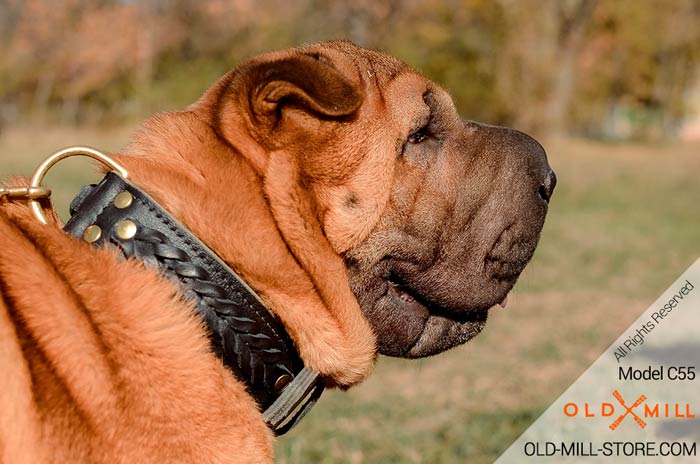 Double Leather Shar Pei Collar with Brass D-Ring for Leash attachment