New Fashionable Leather Pitbull Collar Decorated with Silver Coloured Studs - 1 inch (25 mm) wide
This is a high quality pet product made of hand selected natural soft and durable leather. Best quality cow hide is the primary product to be used for construction of the leather for this very collar.
The wax was brushed on the edges for prevention of their fraying and to make them smoother. With its rounded edges the collar will never rub your pet's skin.
All components of the hardware are resistant to rust as they are made of steel and plated with nickel. Welded buckle is easy to release and connect but hard to break and bend. If clasping it in a right hole you will prevent the collar from slipping off the neck or suffocating your pet. Use D-Ring for leash fastening. The ring has extended shape in order you should connect the snap hook to it without problems.
Amazing studs are installed in a single centered row and fixed with high quality rivets. The ring, buckle and studs will stay in the leather forever as they are manually riveted.
The supply will not stretch or break if you use special agents for leather treatment. The leather surfaces are perfectly oiled to extend the service time of the material.
This piece of equipment is available in different size from 14 to 40 inches and can be easily adjusted if your dog gains his weight.
Whether you choose black, brown or tan color, the collar will look amazing on your Pitbull.
This collar is meant to serve you as long as you want and to show your pet to advantage.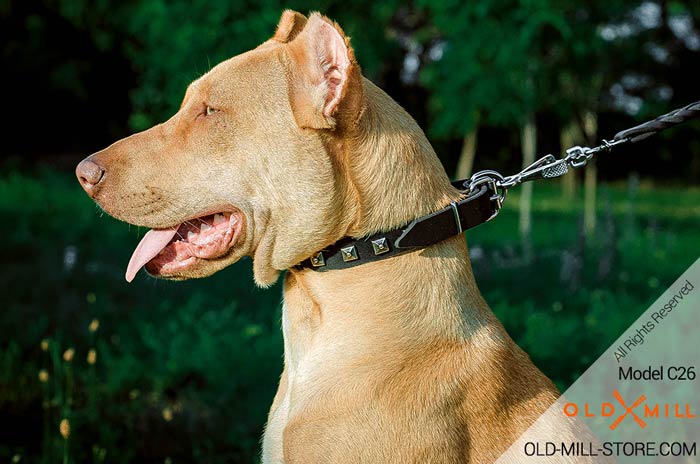 Designer Leather Dog Collar for Pitbull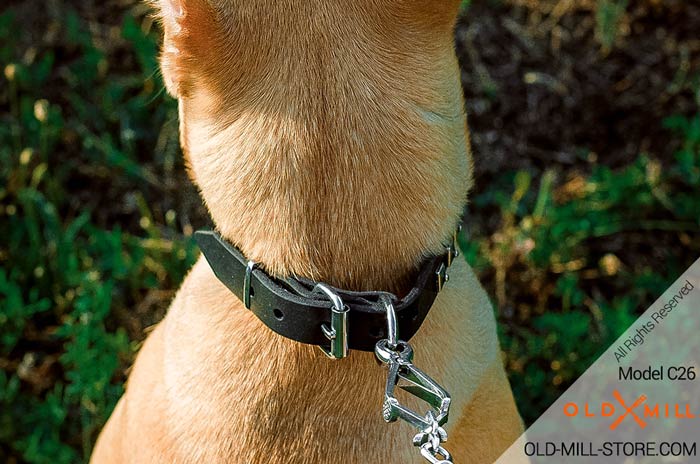 Studded Leather Pibull Collar with D-Ring for Leash attachment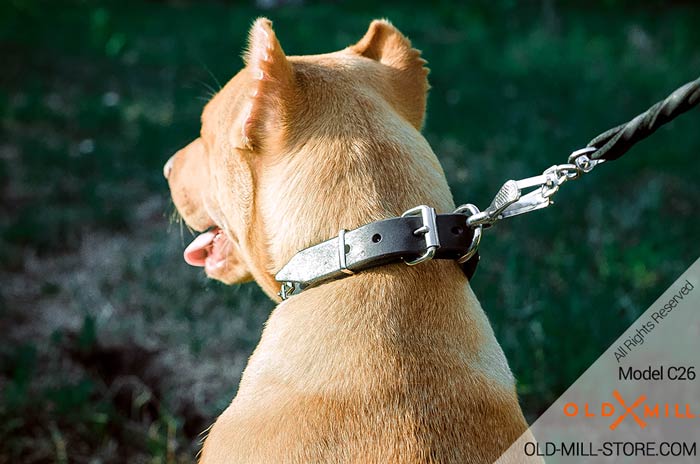 Narrow Dog Collar with Buckle