1 1/2 inch (40 mm) Wide Leather Dog Collar with Large Nickel Plates for Mastiff
This collar is a great sample of quality and craftsmanship of our merchandise. It provides secure fixation, comfort and it is a great addition to your canine's image!
In this dog collar your Mastiff will always have amazing look-presentable and worthy. The Custom Leather Dog Collar is ultra soft as it is made of luxurious first-class genuine leather. It is finished with bright silver colored nickel-plated hardware. Large nickel plated plates resemble armour of medieval habitant. Surfaces are hand polished to silky smoothness. Mastiff will love this collar after first wearing!
Since this dog collar is of premium quality, you will not experience troubles with it at all. This Custom Leather Dog Collar will serve you a long time no matter what you are gonna use it for.
Extraordinary futuristic nickel plates ornament of this collar is one more unbeatable argument to love the collar! Great Width & Individual Style - those are the essential features of the design of this collar!
A convenient buckle is easy adjustable. It is the most dependable type of buckle-maybe you will spend some more seconds for its adjustment but it will never disconnect on its own until you want it to. A traditional belt-like buckle looks too pretty when strong Mastiff wears this dog collar.
And if you already hesitate whether it will be a proper purchase, don't do that any more! Just try and see the quality of the thing, designed to delight you!
This collar is available in three colors: black, tan and brown. Order it in the color you like the most!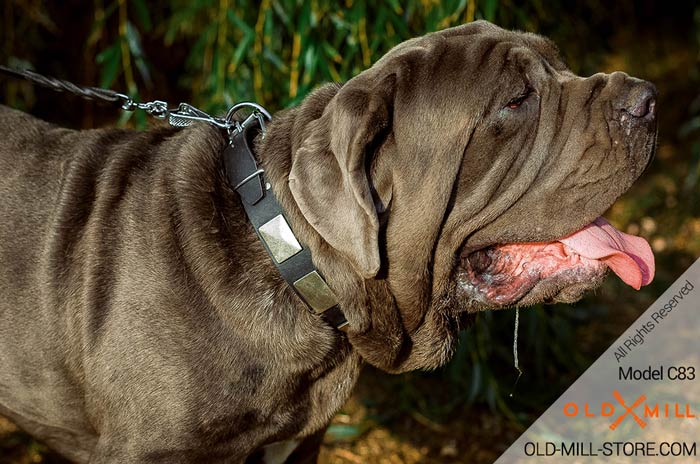 Leather Dog Collar with Large Vintage Plates for Mastiff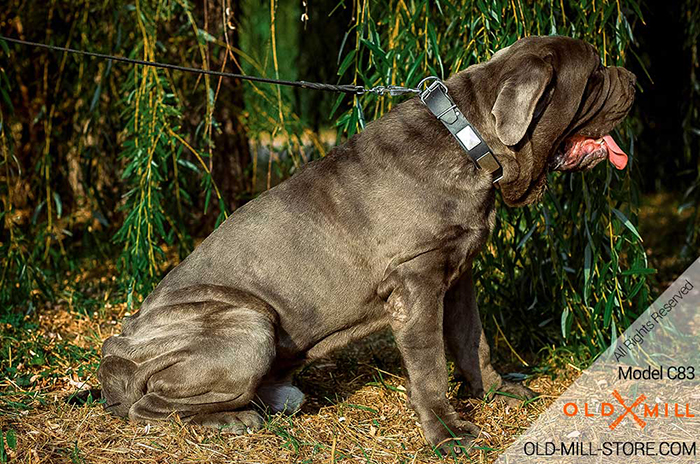 Leather Mastiff Collar with Solid steel nickel plated buckle and D-ring