1 inch (25 mm) wide Studded Dog Collar for Mastiff
Do you want to avoid ordinariness and dress your beloved Mastiff in worthy "clothes"?
This premium quality 1 inch (25 mm) wide dog collar is one of the best. This item will meet the highest demands of the dog owner, because of it's quality, beautiful design and incredibly durable material. You can be sure, that the collar won't tear or lose it's form.
This leather dog collar with handset studs is just what your dog need for everyday activities. Only 100% full grain leather was used for making this collar.
This product causes no allergy or any discomfort because the material is eco-friendly and non-toxic. The leather is known as very strong stuff but at the same time soft and pleasant to touch. This studded leather collar is smooth and all edges are beveled and buffed to satin smoothness. Such collar will deliver only pleasure and joy to your Mastiff.
Perfectly looking nickel studs feature this gear. The whole ensemble has an incredible dazzling look and will impress everyone who will pass by.
The decorations are firmly fixed by hands with rivets for extreme durability and long lasting life of this collar. To achieve maximum comfort, these studs are polished and won't result in any harm.
The steel hardware is nickel plated. Such covering helps to avoid corrosion. This collar will look as new for a long time.
The buckle and D-ring are sturdy, rust proof and durable. They are also riveted firmly. While walking or training you can fully rely on this wonderful gear. Unbelievable tensile strength, glittering effect and classy design are combined in this unique handsome Mastiff collar!
The item is available in black, brown and tan colors to give you the opportunity to accentuate a beautiful color of your Mastiff's fur.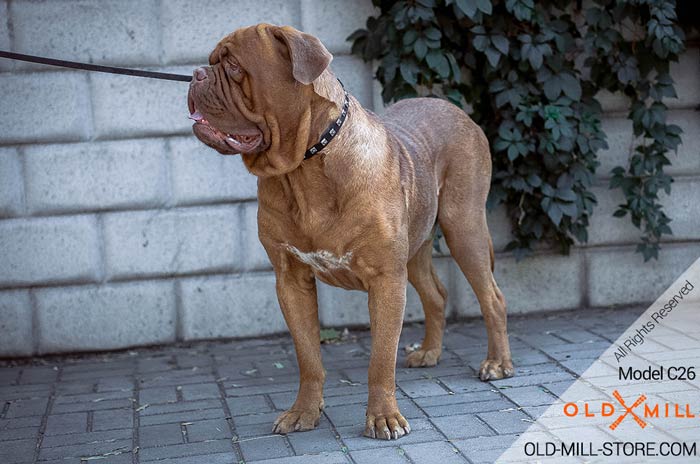 French Mastiff Collar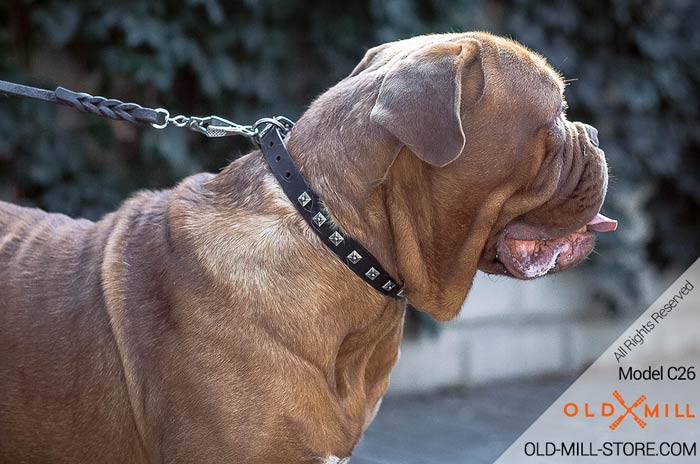 Cool Leather Dog Collar for French Mastiff (Dogue de Bordeaux)