1 1/2 inch (40 mm) Wide Nappa Padded Leather Dog Collar for Mastiff
It is a top notch equipment for Mastiff breed crafted of soft, still durable and absolutely safe materials.
It is rightly considered to be a unique training and walking tool, which is wear and tear proof, adjustable and easy-to-use. It is perfect for dogs with sensitive skin because of its anti-rubbing effect, provided by inside Nappa padding.
Perfectly finished durable leather will retain its flexibility and strength for a long time and its incredible design will not leave anybody indifferent. Mastiffs are to be dressed in an exclusive accessory, which this matchless design collar is. The collar is inlaid with manually made leather braids, attached with brass rivets and decorated with inimitably stamped plates.
The rust-resistant brass buckle allows to adjust this collar for the best fit. Besides, undesirable unlocking is almost impossible to happen. Heavy duty D-ring is handy to attach a leash to.
Available in 3 popular colors: black, tan and brown. It is extremely important to measure your dog's neck correctly to be sure that this collar will suit your dog perfectly. Choose an appropriate size, which can vary from 19 to 40 inches.
Check, please, how this amazing dog supply looks at the dogs on the photos, sent by our customers.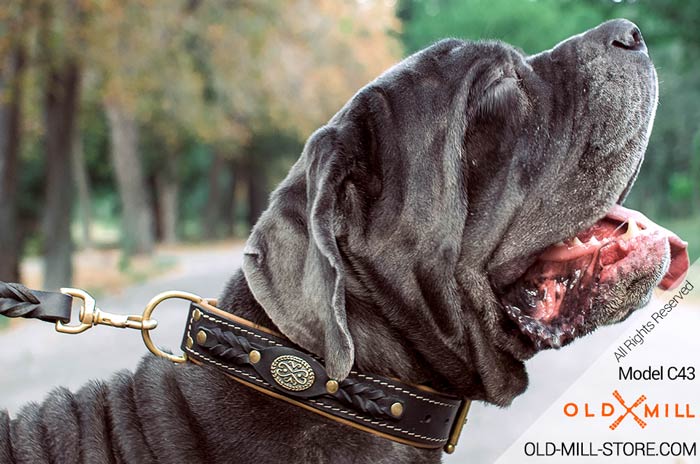 2ply Leather Collar with D-Ring for Mastino Neapolitano

Mastino Neapolitano Collar with Braids and 2 Antiqued medallions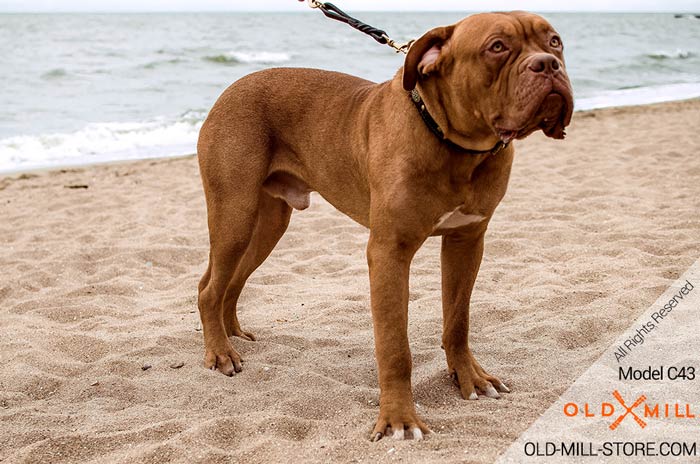 French Mastiff Collar (Dogue de Bordeaux)