1 inch (25 mm) Braided Leather Choke Collar
If you approach to the question of purchasing the training equipment for your dog responsibly… If you are searching for a quality and comfortable control tool for your pet… Then you won't be mistaken if you choose this Braided Leather Choke Collar.
Incredible strength and style are combined in this Braided Leather Choke Collar, so it works great for both everyday walking and training.
Being made of 1 inch wide soft genuine leather, it brings the dog utmost comfort and absence of unpleasant feelings, such as irritation or rubbing. You must have already paid attention to the sophisticatedly made braids. They are made by hands stitched for extra strength and set with brass rivets on the edges.
Solid buckle and D-ring are secured by handset rivets. All the metal parts of the collar are corrosion-proof, so you shouldn't be afraid that they will cover with rust. 2 plies of leather are attached by means of reliable stitching to allow the collar to withstand extreme loads. No glue or doubled up fillers are used!
This collar is available in different size from 14 to 40 inches and can be easily adjusted if your dog gains his weight.
Black, brown or tan - what color is the best match for your stylish dog?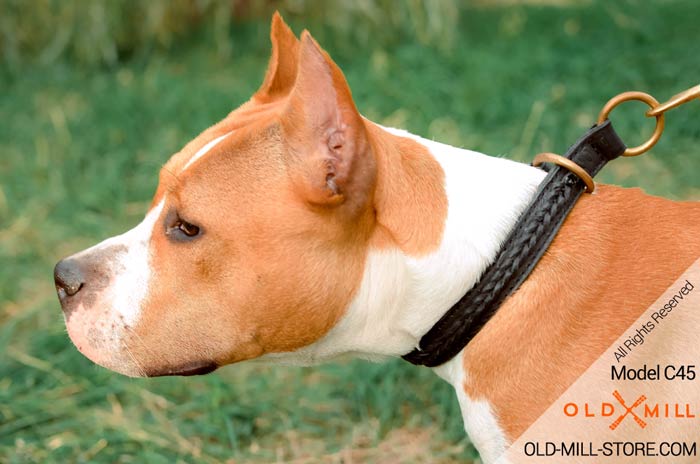 2 ply Choke Amstaff Collar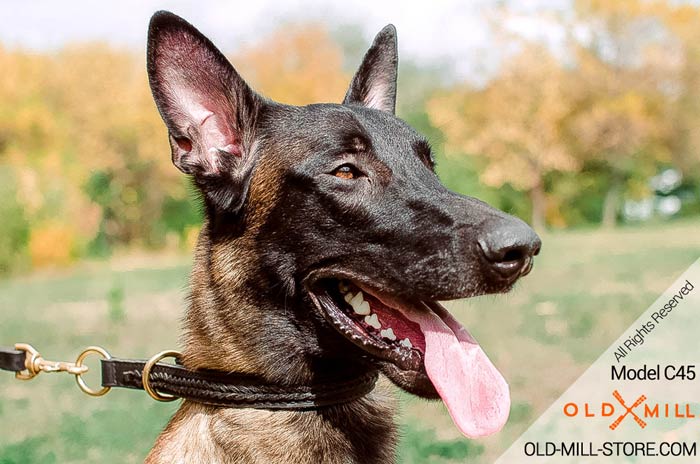 Choke Dog Collar for Belgian Malinois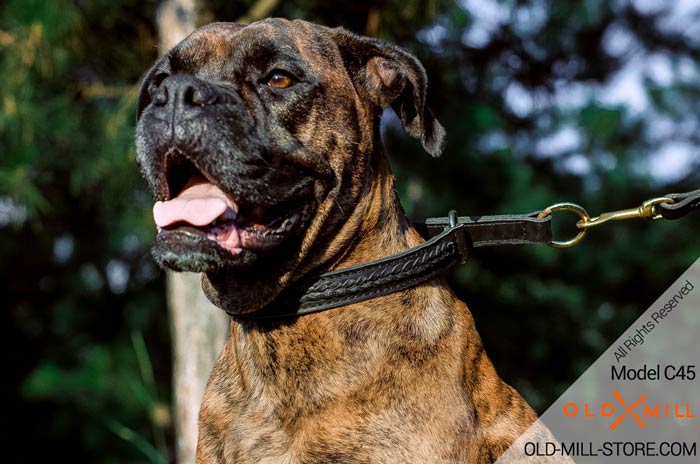 Leather Choke Dog Collar for Boxer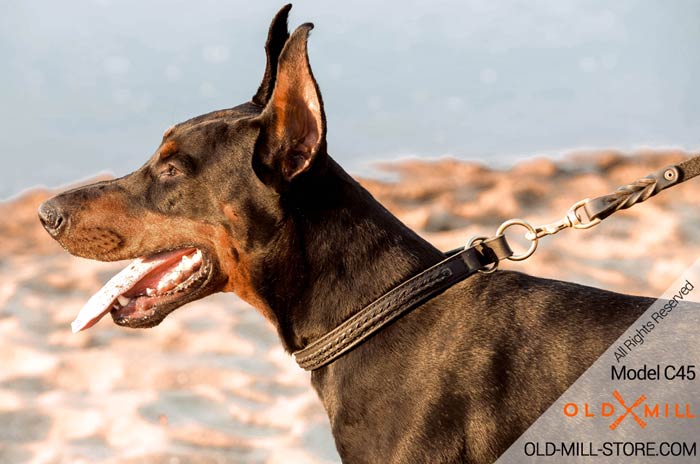 Braided Choke Dog Collar for Doberman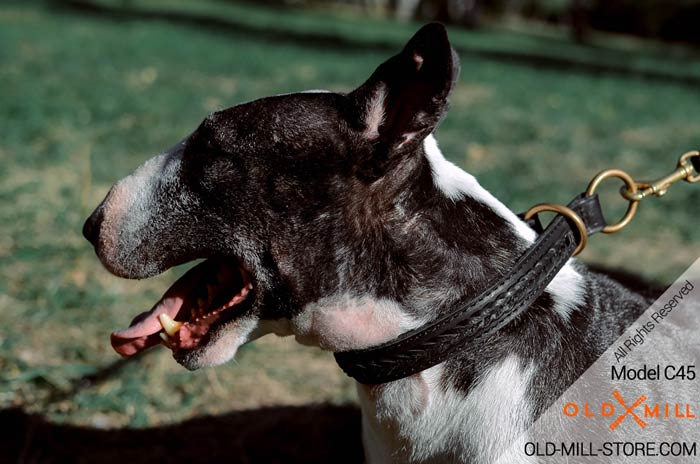 2ply Choke Dog Collar for English Bullterrier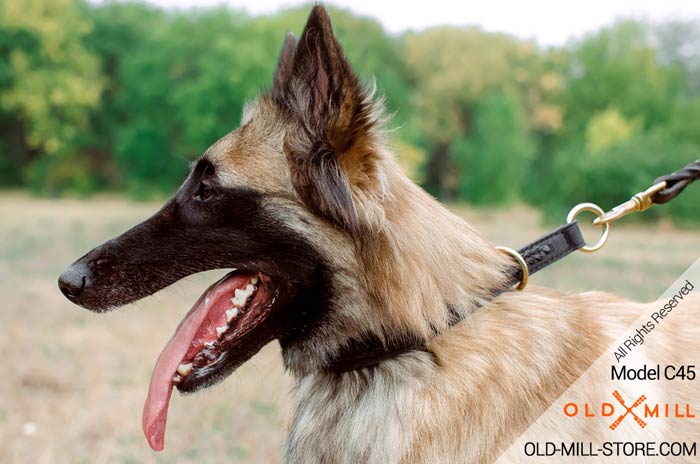 Tervuren Collar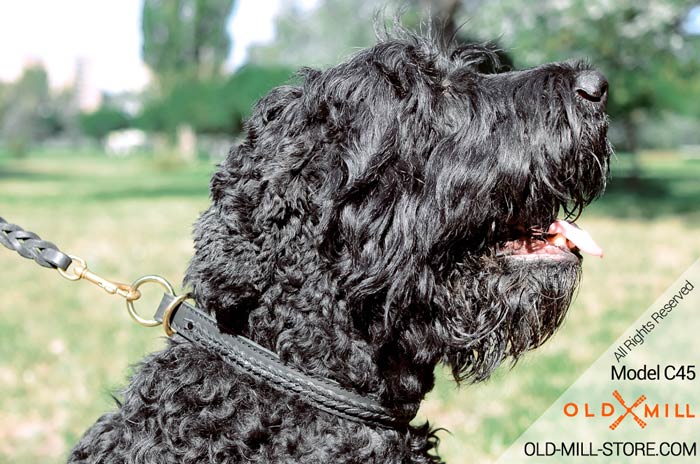 Black Russian Terrier Collar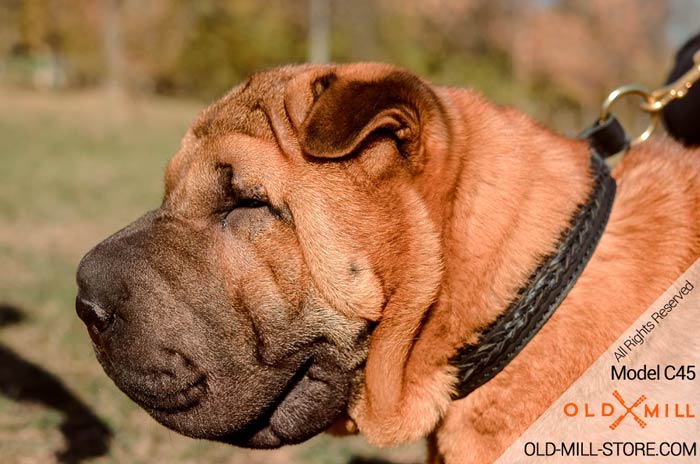 Shar Pei Collar
Ready to ship in 3-7 business days
Dear Customer,
Please, pay your attention that the production time of the different collars/leashes may vary
from 3 to 7 days
.
Each collar/leash you choose is
handcrafted
. So, the production time depends on the complexity of the design you prefer.
Thank you for your interest to our products and for your understanding of the painstaking process.
As a result you will get a
designer's exclusive dog gear
.
Shipping cost for the USA orders
| Order total | $0-$6.98 | $6.99-$20 | $20.01-$98 | $98.01-$199 | $199.01-$349 | $349-UP |
| --- | --- | --- | --- | --- | --- | --- |
| UPS ground (1-5 business days on average) | $4.99 | $6.49 | $9 | $14.90 | $19.90 | $19.90 |
| USPS air delivery (3-5 business days on average) | $18.99 | $18.99 | $18.99 | $24.90 | $29.90 | $34.90 |
Shipping cost for International orders (outside the USA)
| Order total | $0-$6.98 | $6.99-$20 | $20.01-$98 | $98.01-$199 | $199.01-$349 | $349-UP |
| --- | --- | --- | --- | --- | --- | --- |
| USPS air delivery (3-7 business days on average | $27.95 | $27.95 | $27.95 | $44.90 | $49.90 | $59.90 |