1 1/2 inch (40 mm) "Silver Knights" Leather Dog Collar - Cool Mix of Decorations
Its distinctive feature is extravagant decoration - silver-like conchos and studs, handset along the collar for a unique style of your doggie. Being reliable and comfortable, it is a great gear for easy training, everyday walking in style and handling.
Are you tired of low-quality collars? Don't you believe, that it is possible to find a reliable and beautiful dog accessory? Don't lose hope! This stylish dog collar is distinguished for extreme durability and eye-catching design.
The Collar is handmade of genuine oiled leather. Due to the softness of the material your dog will forget about irritation or cutting into the skin. Even dogs with sensitive skin will estimate it at its true worth. It has a smart design, convenient for you, as a handler.
It is equipped with a D-ring, which gives you an opportunity to attach the leash within one move. The buckle can be put in 5 different positions to make the collar perfectly fit your pet. Don't be afraid of humidity, as the hardware is nickel-plated, thus non-corrosive. Nobody will be able to pass over your fascinating dog, he/she looks amazing with this jewelry on. Cool mix of shining studs and circles have silver color due to the nickel covering. Rustproof metal will never lose its shine and the collar will look like a new one for many years.
You can choose between black, brown and tan color. Measure your dog carefully to define an appropriate size for your dog – from 18 to 36 inches.
Get this royal decoration at an affordable price and let your dog dazzle the surrounders with his beauty.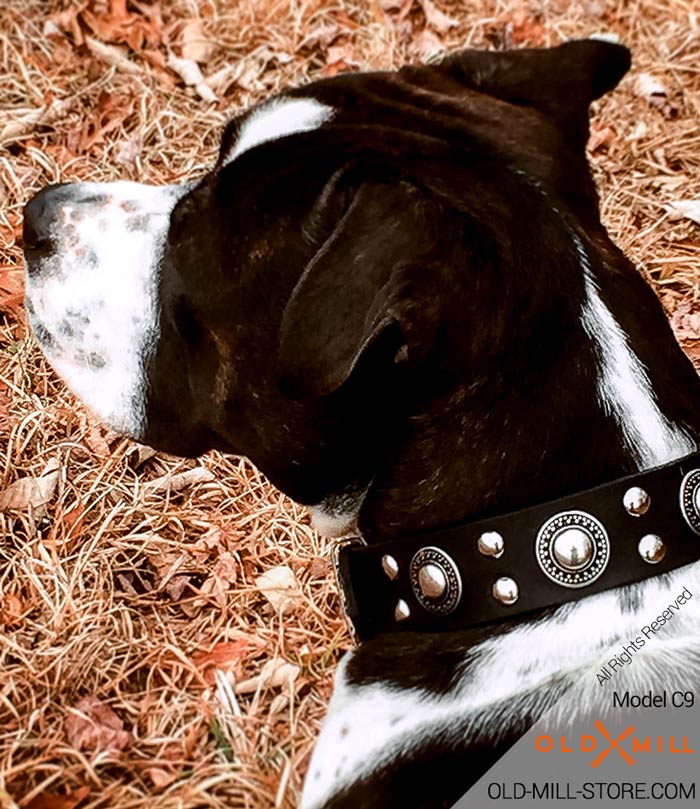 Fillmore loves his collar! Pictures from our Customers