"Bump & Bits" 1 1/2 inch (40 mm) Wide Leather Dog Collar with Brass and Nickel-plated Studs
If you need a strong collar for handling your doggy, this one will fit your needs! It's quite wide and thick to cope with large breed dogs. But it also will suit medium and certain small breeds.
The decorations are made of rust proof brass and stainless steel, so you can be sure they won't lose their color for many years. They are also attached to the strap with durable rivets that are hooked through and flattened on the inside for the dog's safety.
Due to pure leather, this collar is durable yet soft and flexible, so your furry friend won't feel any discomfort while wearing it. This "Bump & Bits" Collar is made in white color that adds special charm. It will definitely suit your dog's taste.
To order a "Bump & Bits" collar you need to select the correct size. Please take precise measurements and choose the collar length from range 14 - 36 inches.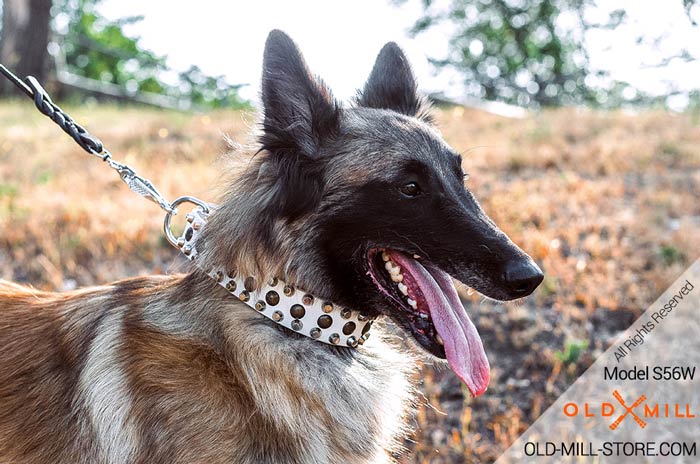 1 1/2 inch Wide White Leather Tervuren Collar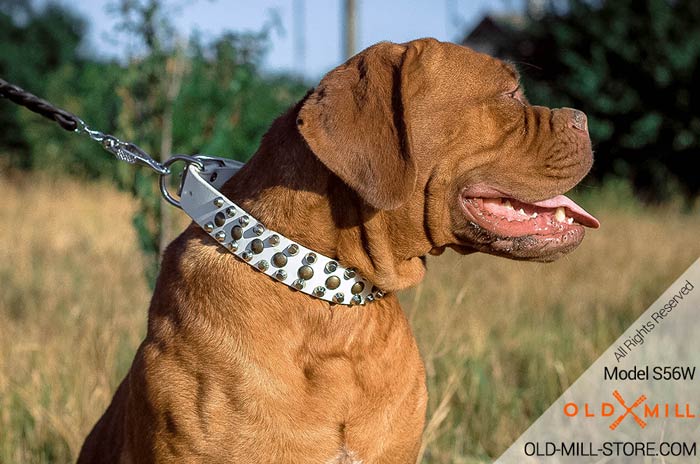 Handmade Collar with Old Brass Studs and Nickel Pyramids for French Mastiff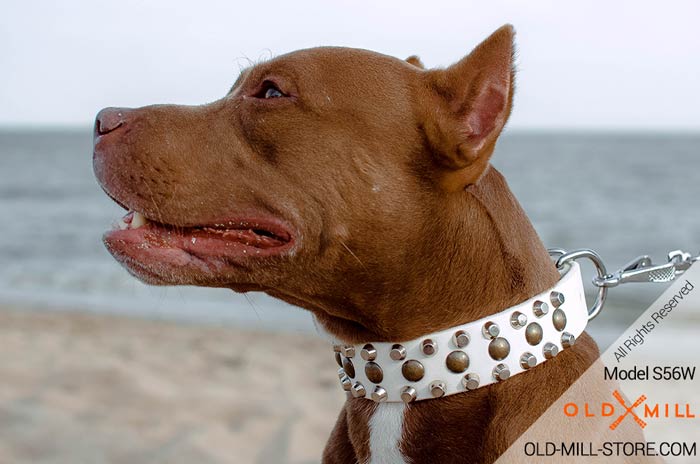 White Leather Female Dog Collar with Studs for Pitbull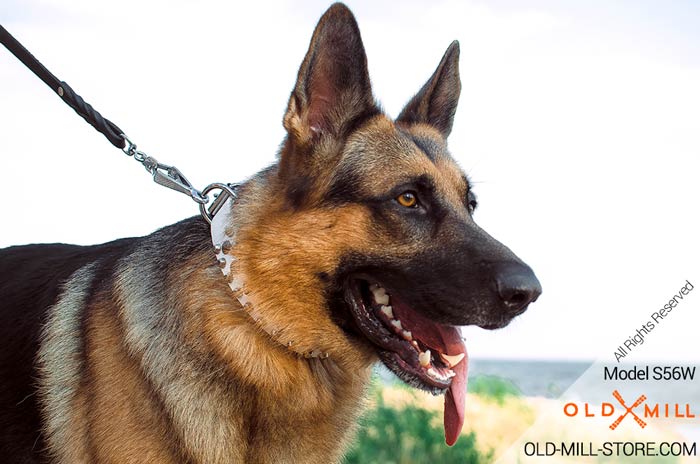 Studded White Leather German Shepherd Collar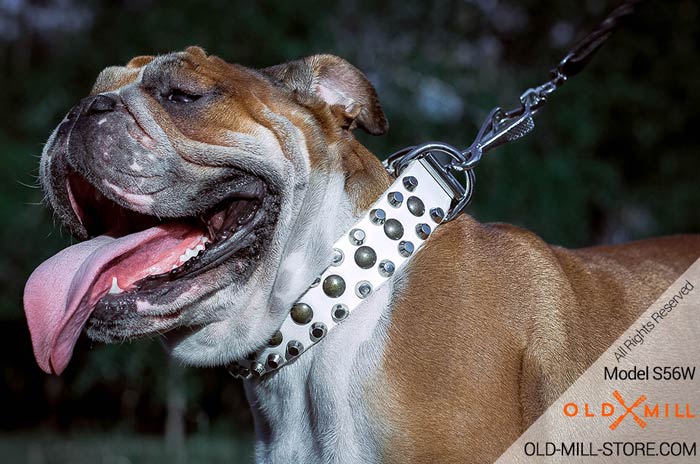 Designer Collar with Studs and Cones for English Bulldog
Ready to ship in 3-7 business days
Dear Customer,
Please, pay your attention that the production time of the different collars/leashes may vary
from 3 to 7 days
.
Each collar/leash you choose is
handcrafted
. So, the production time depends on the complexity of the design you prefer.
Thank you for your interest to our products and for your understanding of the painstaking process.
As a result you will get a
designer's exclusive dog gear
.
Shipping cost for the USA orders
| Order total | $0-$6.98 | $6.99-$20 | $20.01-$98 | $98.01-$199 | $199.01-$349 | $349-UP |
| --- | --- | --- | --- | --- | --- | --- |
| UPS ground (1-5 business days on average) | $4.99 | $6.49 | $9 | $14.90 | $19.90 | $19.90 |
| USPS air delivery (3-5 business days on average) | $18.99 | $18.99 | $18.99 | $24.90 | $29.90 | $34.90 |
Shipping cost for International orders (outside the USA)
| Order total | $0-$6.98 | $6.99-$20 | $20.01-$98 | $98.01-$199 | $199.01-$349 | $349-UP |
| --- | --- | --- | --- | --- | --- | --- |
| USPS air delivery (3-7 business days on average | $27.95 | $27.95 | $27.95 | $44.90 | $49.90 | $59.90 |