"Laconic Austerity" 2 inch (5 cm) Wide Leather Dog Collar
It is 2 inch wide leather, extremely durable, comfy, and stylish. It includes a stainless steel D-ring, which is perfect for attachment of leash and tag information; a heavy-duty roller buckle for quick and easy put on and take off; and a metal keeper for ideal look and comfort.
Do you own large breed dog? Does your pet have long neck? Than he needs very special extra wide dog collar. It will not only look harmoniously on him, but also will provide with more control, because the pulling load is dispersed more evenly, without causing harm to your pet's throat. This dog collar is 2 inches wide, with beautiful polished outer surface, that looks richly without any decorating.
The inner surface is soft, with well flattened rivets, that prevents irritation and itching on your pet's skin. The hardware is extra reliable steel and secured with durable rivets. The D-ring is welded for safe control even when the dog pulls hard. There is also metal keeper to hold the free end of the collar.
It ensures that nothing prevents the dog while walking. All the fittings are nickel-plated to avoid rusting and to add some luster to your pet's look.
You can choose black, brown or tan collar for a fantastic look of your canine.
A range of sizes is also available, so you can find the perfect fit for him.
Make measurement and choose neck size from 14 to 40 inch.
5 holes for adjustment are also set.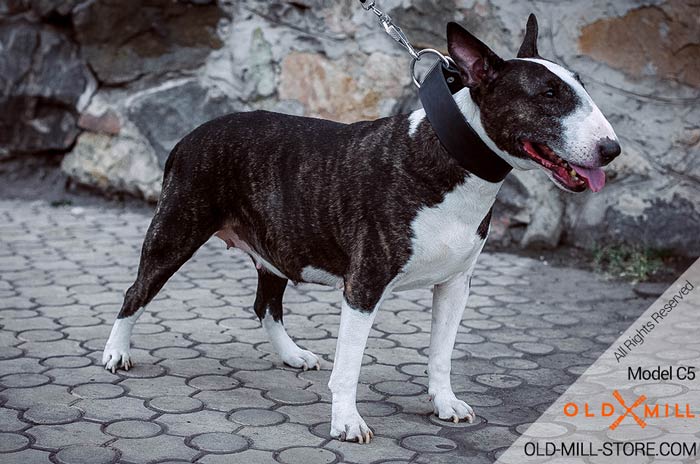 2 inch wide Black Leather Collar for English Bullterrier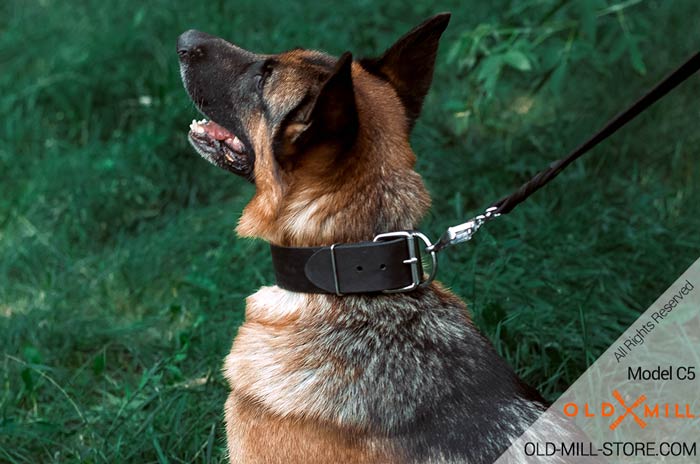 Extra Strong Collar for German Shepherd

Handmade Dog Collar for Boxer Training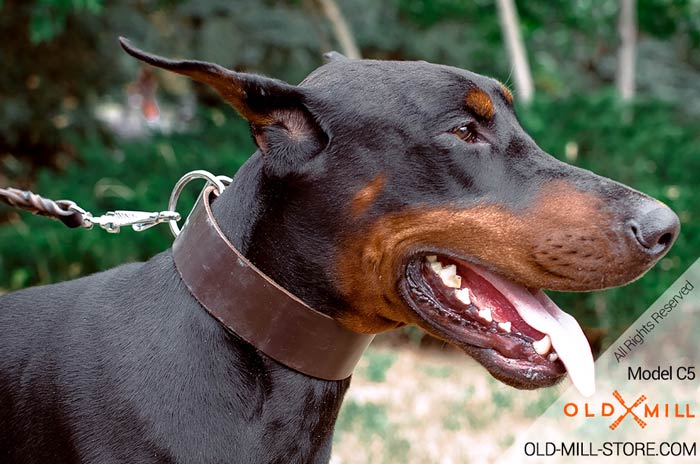 2 inch wide Leather Doberman Collar