1 1/2 inch (40 mm) Wide Leather Dog Collar with Vintage Plates and Pyramids for Cane Corso
This dog collar can be used as a beautiful accessory as well as a durable tool for any kind of Cane Corso handling! It is made with love and care by our best specialists for your dog to feel maximum comfort while walking or training, having a gorgeous look!
This Cool Cane Corso leather dog Collar is really worth buying because:
1. It is made of the perfect super durable and soft selected leather for your dog's comfortability during everyday activities!
2. There are no machine stitches or doubled up fillers, so the edges of the Collar won't fray!
3. It is made of absolutely safe materials, so nothing will rub or cut into your dog's skin!
4. It is decorated with marvellous nickel plates and pyramids and available in three different colors (black, brown, tan)!
5. Plates are hand set with rivets that secure the steel nickel plated buckle and D-ring (for tags and leash). These fittings are corrosion resistant and riveted to hold forever!
6. The collar is handcrafted!
Measure your dog carefully and order the size from 14 to 40 inches.
Order now this Legion Leather Dog Collar! Let your dog be like a movie star!
Cane Corso Collar with Plated Decor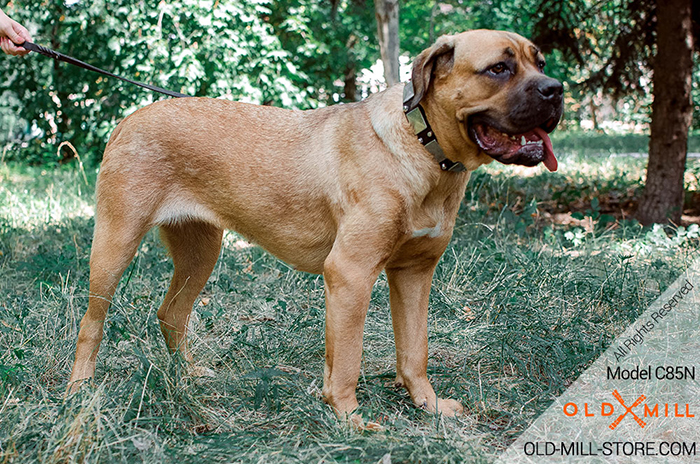 Leather Cane Corso Collar with Vintage Nickel Plates