1 1/2 inch (40 mm) Wide Nappa Padded Leather Dog Collar for Cane Corso
This Collar will perfectly do for daily walks with your dog, for obedience and off leash training, as well as for exercising your Cane Corso.
Every detail in this top quality dog gear was made by hand starting from leather selecting to setting fixtures and decorations. It is manufactured of first class natural leather, so it will keep its form perfectly and will resist to tear and wear. This extremely comfortable collar has Nappa leather padding, which protects your dog's hair from damaging and rubbing.
Your pet won't feel any unpleasant discomfort while wearing. Everybody who saw this collar agree that it is inamitable in design. Handcrafted braids are secured by means of rivets and decorated with stamped plates. All the metal parts, including hardware, are brass, thus resistant to corrosion.
The size of the collar can be easily regulated with the help of a traditional buckle, the most reliable type of fasteners. But bear in mind, that this dog tool is avaialble in a variety of sizes from 19 to 40 inch.
There is no matter which color you choose black, brown or tan, your pet will look irresistable in this sophisticated design dog supply.
Want to know how this collar looks in real life? You have such an opportunity, having checked the real photos from out customers.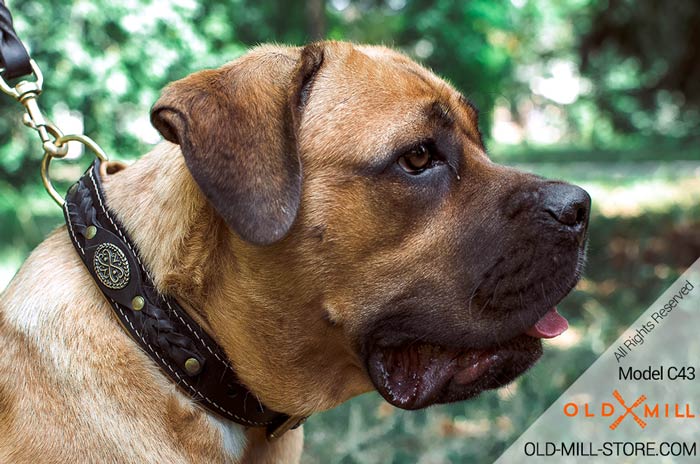 2ply Leather Cane Corso Collar with Vintage Medallions

Padded LeatherDog Collar with D-Ring