Gorgeos Studded Leather Dog Collar for Your Boxer - 1 1/4 inch (30 mm) wide
It is decorated leather collar that is practical for strenuous training and showy walking. This supply features three rows of nickel covered studs that add more sophistication to the exterior of a traditional buckle collar.
Full grain leather is natural material the product is made of. It is extra durable and strong, tear- and wearproof. It develops distressed look with normal regular usage and becomes softer. Its edges are rounded to prevent them from fraying. Ideally oiled surface is protected from overdrying. All the metal details are secured with rivets to hold forever.
This equipment will never rub or irritate your Boxer's skin – it is made with your doggie in mind and is designed to create nothing but comfort for him. It will never wear into the skin but will follow the neck lines in an appropriate way.
Easy release standard belt-like buckle is the guarantee that the collar will not get released spontaneously. You should fit this collar so as to prevent it from slipping off the neck or from suffocating your doggie. Choose an appropriate size, which can vary from 14 to 40 inches.
Constructed of hand-selected materials the collar is free from toxicants or poisonous substances. It will never provoke allergies in the pet and will not damage his health. It does not discolor the fur either. Choose out of the three popular colors this product is available in. Nickel coated pyramids will not get rusty as the alloy is known to be non-corrodible. D-ring for leash attachment is also nickel-plated.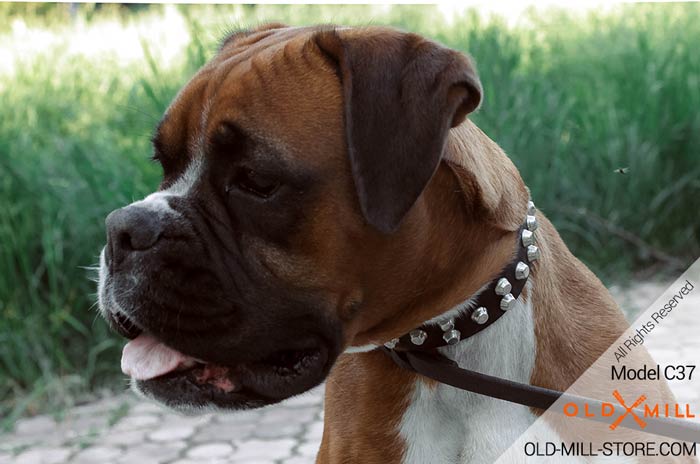 Studded Boxer Collar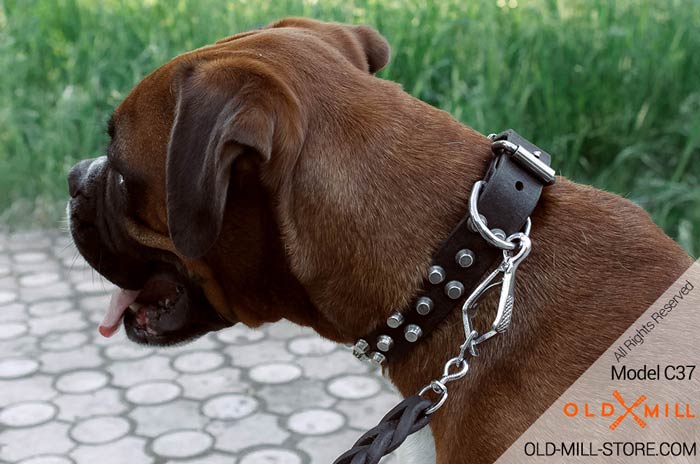 Boxer Leather Dog Collar with D-ring for leash attachment
Ready to ship in 3-7 business days
Dear Customer,
Please, pay your attention that the production time of the different collars/leashes may vary
from 3 to 7 days
.
Each collar/leash you choose is
handcrafted
. So, the production time depends on the complexity of the design you prefer.
Thank you for your interest to our products and for your understanding of the painstaking process.
As a result you will get a
designer's exclusive dog gear
.
Shipping cost for the USA orders
| Order total | $0-$6.98 | $6.99-$20 | $20.01-$98 | $98.01-$199 | $199.01-$349 | $349-UP |
| --- | --- | --- | --- | --- | --- | --- |
| UPS ground (1-5 business days on average) | $4.99 | $6.49 | $9 | $14.90 | $19.90 | $19.90 |
| USPS air delivery (3-5 business days on average) | $18.99 | $18.99 | $18.99 | $24.90 | $29.90 | $34.90 |
Shipping cost for International orders (outside the USA)
| Order total | $0-$6.98 | $6.99-$20 | $20.01-$98 | $98.01-$199 | $199.01-$349 | $349-UP |
| --- | --- | --- | --- | --- | --- | --- |
| USPS air delivery (3-7 business days on average | $27.95 | $27.95 | $27.95 | $44.90 | $49.90 | $59.90 |