1 3/4 inch Wide Extra Strong 2 ply Leather Dog Training Collar for Boxer
This Collar is very durable. This gear is made of 2 ply leather to ensure that you won't have troubles with torn collar. The fittings are sturdy and resistant to rust. It means that they are almost impossible to break.
Agitation training is a long process and considering this we make the collar, that, when used properly, will serve you and your Boxer for a long time. Besides, you can use it for obedience training, off leash training, and for safe walking your dog.
The width of the collar is 45 mm ( 1 3/4 inch). This collar is available in different sizes from 17 to 40 inches and can be easily adjusted if your dog gains his weight. Black or brown- what color is the best match for your stylish dog?
This collar has a special fur protection plate. It is made to prevent damage of your dog's magnificent fur. No matter how hard your dog pulls, you may not worry about his hair.
A few words about brass fittings. Brass is an alloy of copper and zinc. The color of the brass is gold-like and it is often used to make the collar look luxury and stylish.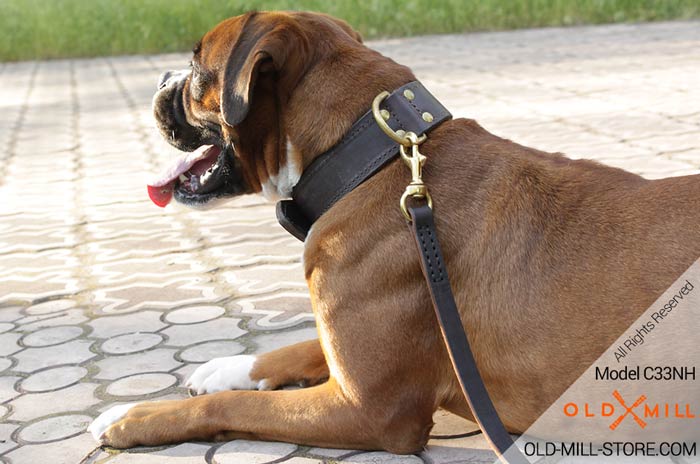 2-ply Leather Dog Collar with D ring for Boxer

Boxer Collar with Fur Protection Plate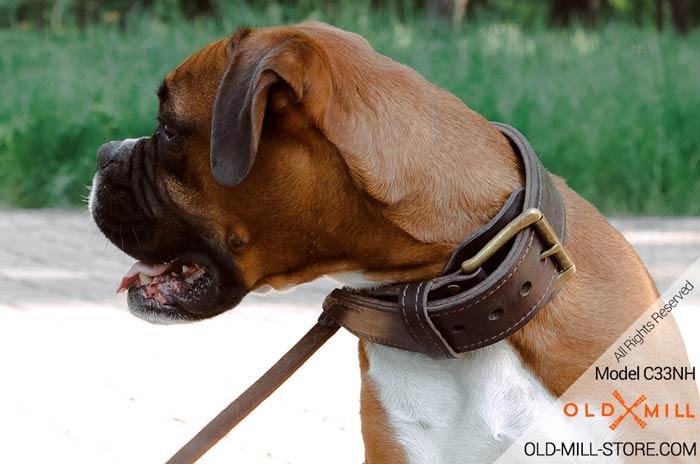 Brass Buckle Collar for Boxer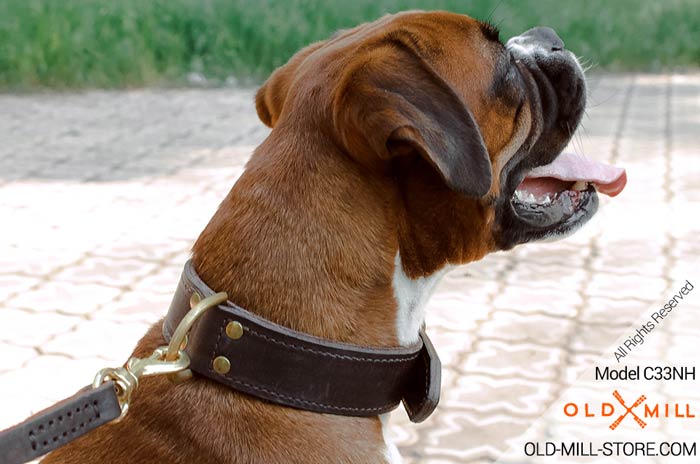 Classic Boxer Collar for Walking / Training
To order this collar, please, measure the distance around your dogs neck. This measurement will be the center hole, and there will be several holes on each side of the center hole to fit the collar more exactly if needed.