1 1/4 inch wide Beautiful Studded Leather Dog Collar for Fashionable Rottweiler
Get this article and you will be successful in every activity your Rottweiler is involved in. Despite its sophisticated look this gear will render you great assistance when managing your furry friend.
Full grain leather is the material the collar is made of. Due to handmade fabrication this collar will serve you longer that a machine-made product. Its surface was oiled for being more flexible and crack-resistant. Your canine will not be suffering from skin rubbing or irritation if equipped with the item. The surface is manually polished to silky smoothness.
Studs look proportional and symmetrical, they bring out the beauty of this article making it a piece of art. Rottweiler is powerful animal but if having this collar on he will seem to be stronger but at the same time fashionable.
It is a traditional accessory because of the mode of its adjustment. It has easy release buckle that gets released or connected without problems but securely. The collar is made in belt-like style and this buckle will make the outfit stay firmly on the neck. Once properly adjusted the gear will never slip off your canine and it will difficult for the Rottweiler to dislodge it with the paws.
Attach a matching leash to D-Ring and handle a canine companion of yours with confidence! The ring is positioned so as to be hooked easily. The fittings are brass-made and will never corrode. Only negligent attitude will result in early damage of this high quality dog item.
Measure your dog's neck correctly to be sure that this collar will suit perfectly on your dog. Choose an appropriate size, which can vary from 14 to 40 inches.
The collar is available in 3 different colors: black, tan and brown. Choose the one which will perfectly suit your beloved canine!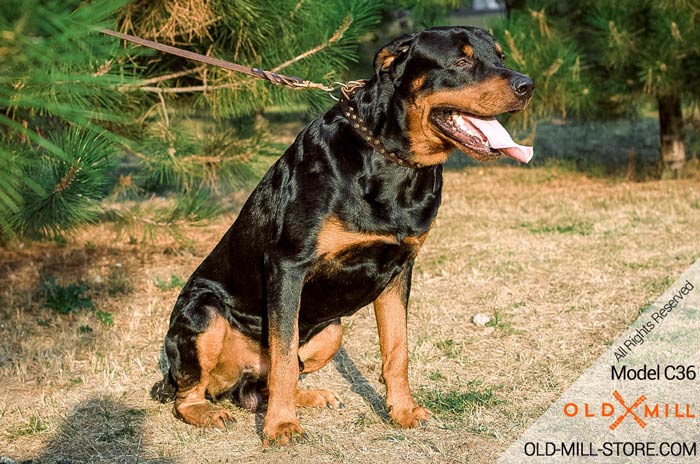 Studded Leather Rottweiler Collar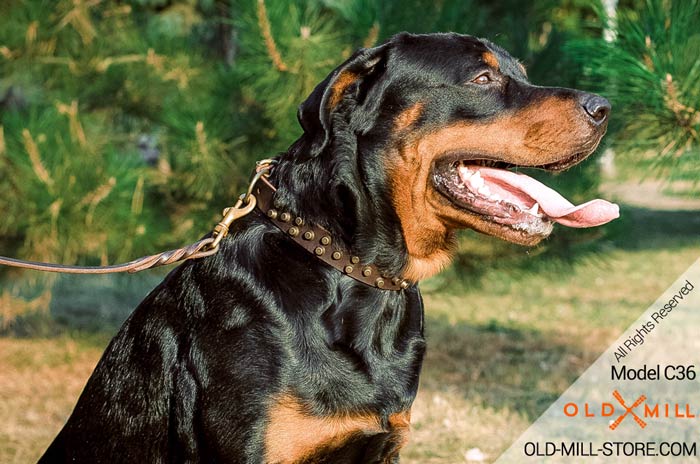 Rottweiler Collar with Decorative Studs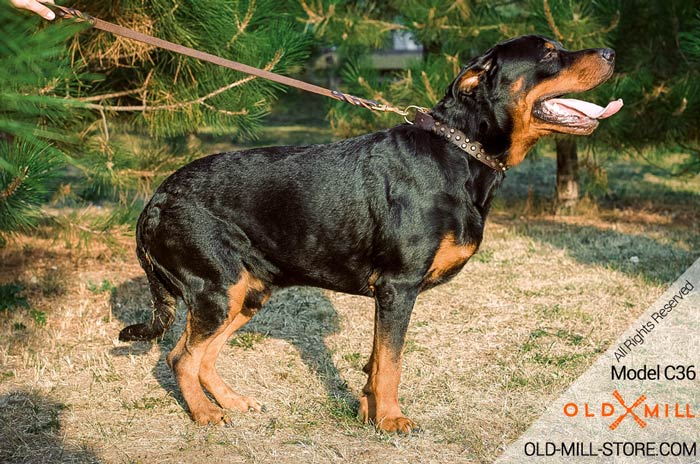 Brown Collar for Rottweiler
Ready to ship in 3-7 business days
Dear Customer,
Please, pay your attention that the production time of the different collars/leashes may vary
from 3 to 7 days
.
Each collar/leash you choose is
handcrafted
. So, the production time depends on the complexity of the design you prefer.
Thank you for your interest to our products and for your understanding of the painstaking process.
As a result you will get a
designer's exclusive dog gear
.
Shipping cost for the USA orders
| Order total | $0-$6.98 | $6.99-$20 | $20.01-$98 | $98.01-$199 | $199.01-$349 | $349-UP |
| --- | --- | --- | --- | --- | --- | --- |
| UPS ground (1-5 business days on average) | $4.99 | $6.49 | $9 | $14.90 | $19.90 | $19.90 |
| USPS air delivery (3-5 business days on average) | $18.99 | $18.99 | $18.99 | $24.90 | $29.90 | $34.90 |
Shipping cost for International orders (outside the USA)
| Order total | $0-$6.98 | $6.99-$20 | $20.01-$98 | $98.01-$199 | $199.01-$349 | $349-UP |
| --- | --- | --- | --- | --- | --- | --- |
| USPS air delivery (3-7 business days on average | $27.95 | $27.95 | $27.95 | $44.90 | $49.90 | $59.90 |