1 1/2 inch (40 mm) Wide Leather Dog Collar Nickel Plates and Pyramids for Labrador
Being made of top quality, dog-friendly leather material this item will serve you and your Labrador during a long period of time. It is riveted for extreme durability, so you can be sure that during training it won't break and won't lose its shape after a long term of usage.
This awesome leather dog collar is super strong and durable. Thanks to thick, perfectly oiled leather material, this gear will not crack, tear or lose its shape. There are no doubled up fillers or machine stitches, so the edges won't fray! The collar is soft as well, therefore skin problems are in the past. Pro craftsmen select the best quality materials and metals for this item. Full grain genuine leather is used to create such a marvelous accessory.
Steel nickel plated hardware is rustproof and almost unbreakable. The steel nickel plated buckle and D-ring are heavy-duty, resistant to rust and properly riveted, so you can be sure that they will hold up the energy of Labrador breed.
The collar is adorned with trendy decorations which are resistant to rust and handset by our professionals. These small parts are properly fixed with rivets to hold forever. So, do not worry that these small parts will fall off after the first usage.
So, if you order this fascinating leather dog collar, you will receive a multifunctional and reliable supply for everyday usage. Moreover, your Labrador will feel comfort during different activities.
The item is available in 3 colors: black, brown and tan. Measure your dog carefully and order the size from 14 to 40 inches.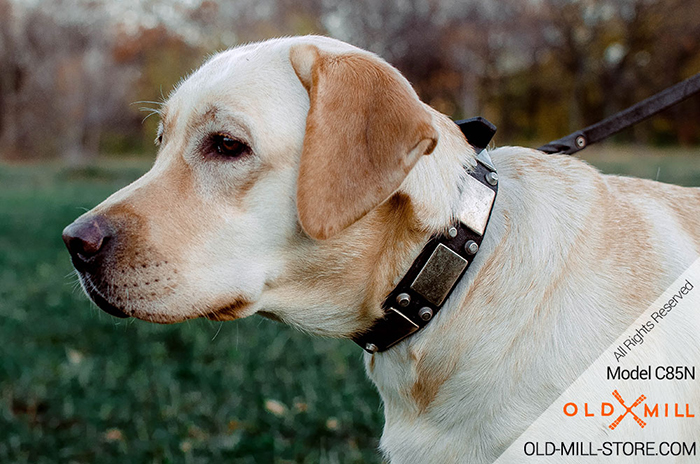 Labrador Collar with Plated Decor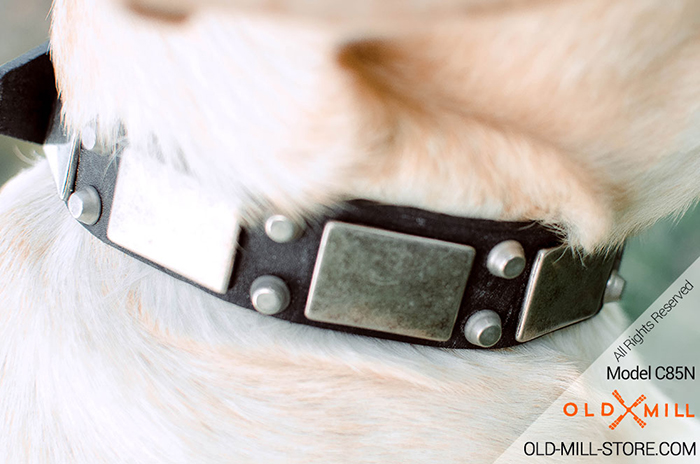 Leather Labrador Collar with Vintage Nickel Plates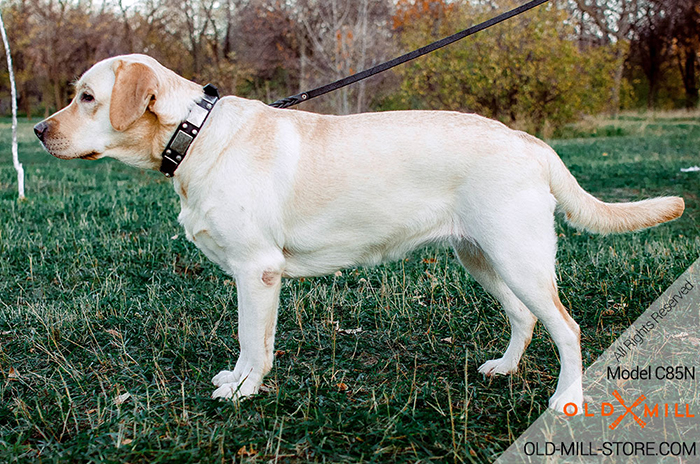 Decorated Leather Dog Collar for Labrador