1 inch (25 mm) Braided Leather Choke Collar for Labrador
The distinctive feature of this kind of collar is the choking effect. The collar tightens stronger when a leash is pulled, of course, it causes certain discomfort to the dog and he stops pulling the leash. You may pull the leash by yourself if the dog is barking, growling and trying to attack animals or people. These deeds are aimed to learn your dog control his aggression.
This collar is especially good during obedience trainings. You can control the aggression of your pet and train him to be obedient and silent. It is made of stitched two-ply leather and two water-resistant O-rings. The whole construction of the collar is strong enough to endure the pressure that a dog of medium and large sizes may cause on it. A braided decoration is hand set with rivets.
This collar is fixated on the dog's neck in a special way: 2 O-rings perform a kind of a fastener that tightens when the leash is pulled and releases when the leash is not pulled.
The size of the collar should coincide with the top circumference of the dog's neck. In this case such a collar will not cause a harmless effect on the respiratory ways of your pet.
Please be advised that:
For choke collars, please, specify neck and head circumference of your dog in the widest part. We will make best fit collar for your dog based on the sizes you will provide.
If your dog is a puppy please note that as your dog grows you will have to purchase bigger size choke collar.
This collar is available in different sizes from 14 to 40 inches and can be easily adjusted if your dog gains his weight. Black, tan or brown- what color is the best match for your stylish dog?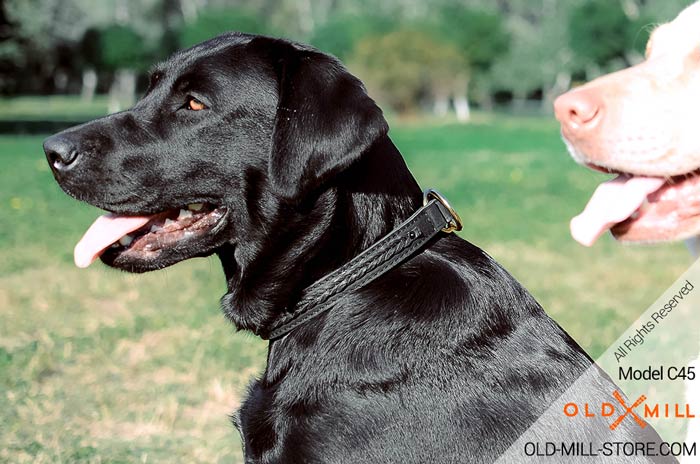 2ply Choke Dog Collar for Labrador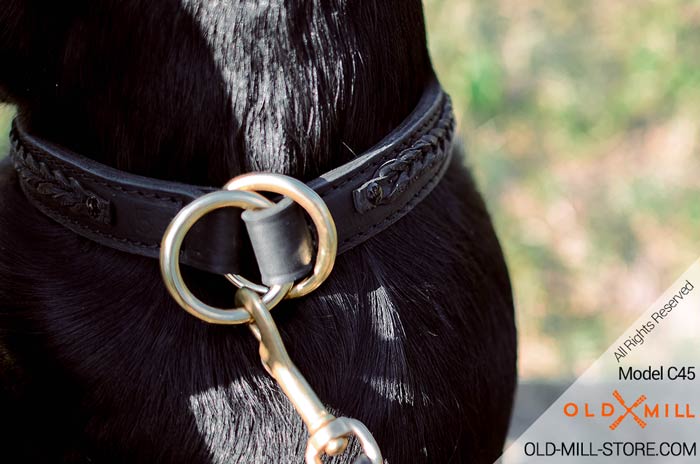 Brass Rings on 2ply Leather Labrador Collar
Ready to ship in 3-7 business days
Dear Customer,
Please, pay your attention that the production time of the different collars/leashes may vary
from 3 to 7 days
.
Each collar/leash you choose is
handcrafted
. So, the production time depends on the complexity of the design you prefer.
Thank you for your interest to our products and for your understanding of the painstaking process.
As a result you will get a
designer's exclusive dog gear
.
Shipping cost for the USA orders
| Order total | $0-$6.98 | $6.99-$20 | $20.01-$98 | $98.01-$199 | $199.01-$349 | $349-UP |
| --- | --- | --- | --- | --- | --- | --- |
| UPS ground (1-5 business days on average) | $4.99 | $6.49 | $9 | $14.90 | $19.90 | $19.90 |
| USPS air delivery (3-5 business days on average) | $18.99 | $18.99 | $18.99 | $24.90 | $29.90 | $34.90 |
Shipping cost for International orders (outside the USA)
| Order total | $0-$6.98 | $6.99-$20 | $20.01-$98 | $98.01-$199 | $199.01-$349 | $349-UP |
| --- | --- | --- | --- | --- | --- | --- |
| USPS air delivery (3-7 business days on average | $27.95 | $27.95 | $27.95 | $44.90 | $49.90 | $59.90 |