1 inch (25 mm) Braided Leather Choke Collar for English Bulldog
This special collar belongs to the group of collars that can be used for both training and walking. It will help you to train your Bully despite the long process of training. The product is durable and super strong. The item is also good for walking. It is so comfortable that your Bulldog will not even notice it is wearing the collar. This implement provides your pet not only with comfort and safety during training sessions but also gives a chance to feel free and independent.
High quality is probably one of the first and the most important things that should be said about this collar. It does not have an unpleasant odor. The leather is safe and that means that this collar will not scratch your English Bulldog's skin. You can be sure that your pet will not have any allergies, injuries, skin irritations, hair loss or rubbings because of this item. This collar will not hurt your beloved pet.
This collar is available in different sizes from 14 to 40 inches and can be easily adjusted if your dog gains his weight. Black, tan or brown - what color is the best match for your stylish dog?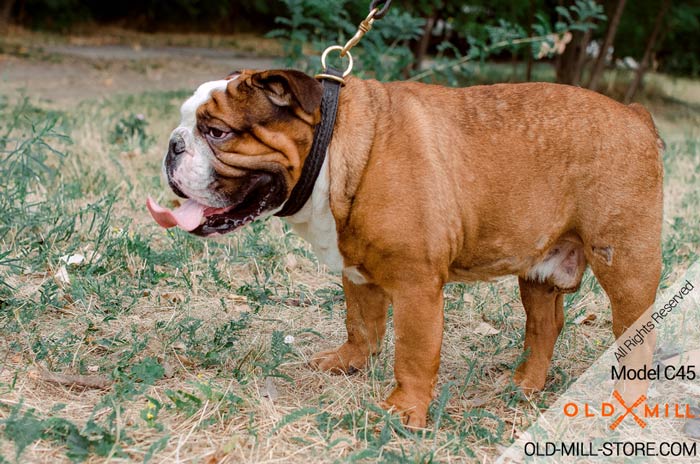 2ply Choke Dog Collar for English Bulldog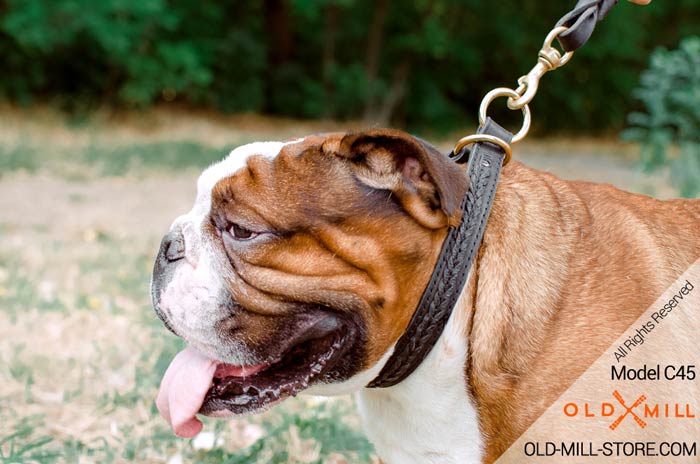 Bulldog Choke Collar with O-Rings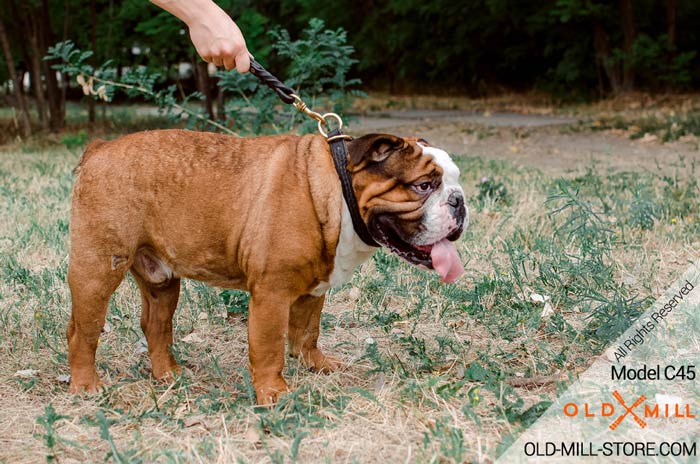 Bulldog Choke Collar
Ready to ship in 3-7 business days
Dear Customer,
Please, pay your attention that the production time of the different collars/leashes may vary
from 3 to 7 days
.
Each collar/leash you choose is
handcrafted
. So, the production time depends on the complexity of the design you prefer.
Thank you for your interest to our products and for your understanding of the painstaking process.
As a result you will get a
designer's exclusive dog gear
.
Shipping cost for the USA orders
| Order total | $0-$6.98 | $6.99-$20 | $20.01-$98 | $98.01-$199 | $199.01-$349 | $349-UP |
| --- | --- | --- | --- | --- | --- | --- |
| UPS ground (1-5 business days on average) | $4.99 | $6.49 | $9 | $14.90 | $19.90 | $19.90 |
| USPS air delivery (3-5 business days on average) | $18.99 | $18.99 | $18.99 | $24.90 | $29.90 | $34.90 |
Shipping cost for International orders (outside the USA)
| Order total | $0-$6.98 | $6.99-$20 | $20.01-$98 | $98.01-$199 | $199.01-$349 | $349-UP |
| --- | --- | --- | --- | --- | --- | --- |
| USPS air delivery (3-7 business days on average | $27.95 | $27.95 | $27.95 | $44.90 | $49.90 | $59.90 |