1 1/4 inch (30 mm) Wide English Bulldog Collar for Daily Walking
Buy a new equipment for your doggy! This Durable Leather Bulldog Collar with Studs combines the utmost comfort, style and safety. So you will be able to use it for different purposes, such as walking and basic training.
This Leather Collar meets the highest international quality standards. This collar is made of 100% genuine leather.
This English Bulldog supply has a perfect width - 1 1/4 inch (30 mm). It has polished edges. Thus, this item won't make pressure on your doggy's neck. Wearing it, your pet will feel comfortable. He/she will be protected from rubbing, skin irritation or cutting into the skin
The collar is equipped with strong hardware. It has durable buckle due to which you can adjust the collar according to your pet's measurements. Moreover, all the metal parts are rust resistant. Please, note that buckle and D-ring are brass and hand riveted as well so their reliability is so much increased.
The collar is decorated with 3 rows of symmetrical proportional brass pyramids. The decoration is riveted in order not to fall off.
This item is available in three colors: black, tan and brown. You can order it in the color you like the most.
So get this item for your lovely English Bulldog and let your pet be sure that he/she is the number one!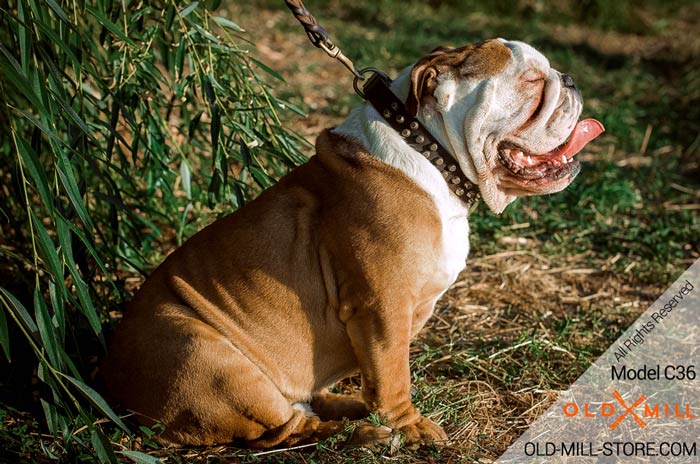 Studded Leather English Bulldog Collar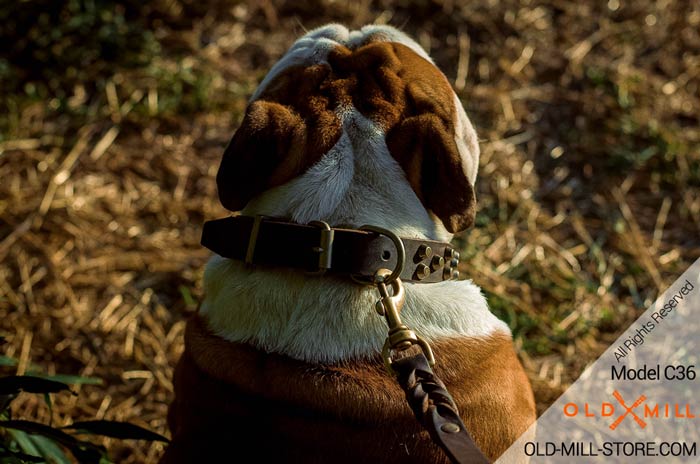 Bulldog Collar with Strong D-ring for Leash attachment
Decorated Leather Dog Collar for English Bulldog