1 1/2 inch (40 mm) Wide Leather Dog Collar with Old Nickel Conchos for Great Dane
The edges of the Collar won't fray because there are no machine stitches and doubled up fillers.
Thus, along with the perfect design, this Leather Collar is high-quality and it's made for your Dane to enjoy any everyday activity!
The low price of the item is a pleasant bonus to other important features!
Practicability. You may put this Leather Collar on your Great Dane, no matter what you are going to do with him. This Collar may also be used during obedience and off-leash training. If you decided to travel with the dog, the Collar will add special style to him and show everybody how much do you care about your dog's style.
Quality. Quality material ensures a long life for this Collar. The leather, we use to produce this Collar, is soft to provide your Great Dane with maximum comfort.
However, it's very strong not to tear in extreme situations. The fittings of the Collar are very strong as well. The D-ring can withstand the stress of large dog pulling hard. The buckle of the Collar is easy to use and reliably fixes this Collar on your dog's neck.
The hardware and decorations of this product are made of nickel plated steel, which is durable, corrosion resistant and attractively looking material.
Decorative Conchos have a rich silver color which goes well with the collar's color. The collar is available in black, brown and tan. The collar's sizes differ from 16 to 40 inches. Make your order and you will hold this beautiful collar in your hands very soon!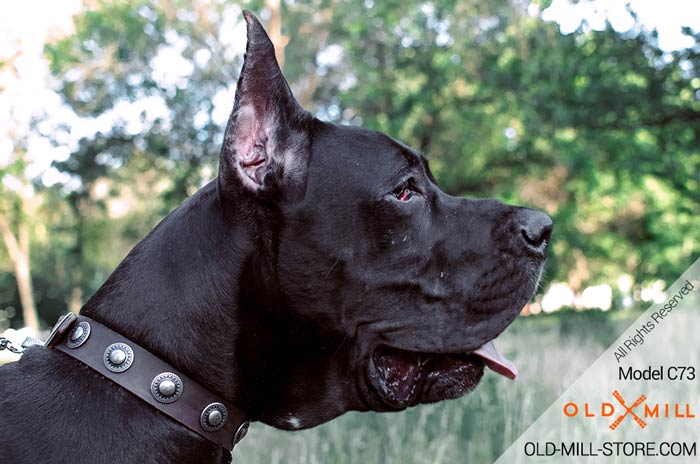 Great Dane Collar with Silver-like Conchos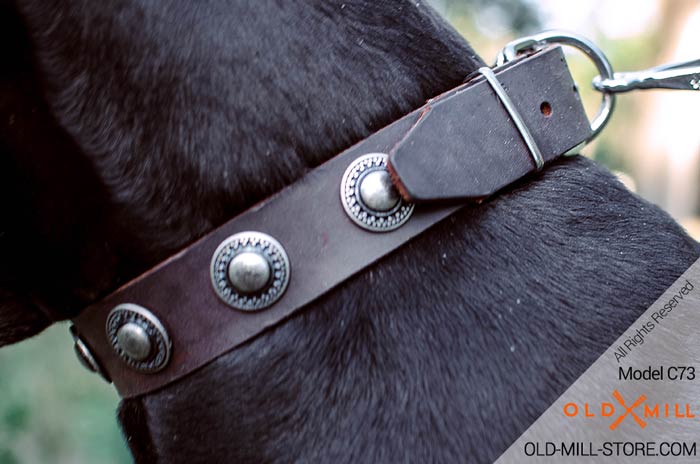 Great Dane Collar with Silver-like Conchos and D-Ring for Leash attachment