1 3/4 inch (45 mm) wide Braided Leather Dog Collar for English Bull Terrier
This awesome leather collar provides:
Super comfort for your Bull Terrier. Only soft and durable leather was used to make this collar extremely comfortable. The edges of the collar are polished, that prevents rubbing or any other discomfort. Two layers of premium quality materials and strong rivets make this collar incredibly reliable.
Non-toxic stuff. With this collar, you will forget about any problems that are connected with allergy or irritation. Genuine leather is the best material for pets, who experience organism's rejection of wearing poor quality tools.
Fashionable design. You can see that luxury is combined with style in this amazing collar. It is decorated with elegant braids fixed reliably with rivets. Your Bull Terrier will draw attention of all people that will see him.
Easy handling. This piece of eqiupment has a D-ring on the back side of the collar. It allows to attach the leash quickly and without any obstacles. A strong buckle and holes make the process of adjustment easier.
Available price. You think that the collar with so many advantages costs a lot? You will be surprised, but no. You can get this superb collar at a reasonable price. The collar of your dream has probably never been so available.
Practicalness. Going for a walk? Or planning to train your Bull Terrier? Or maybe you intend to appear in a public place with your pet? Then you need this multifunctional collar! Your dog will be perfect wearing this collar on in any situation.
This collar is available in different sizes from 18 to 40 inches and can be easily adjusted if your dog gains his weight. The supply is available in 2 different colors: black and brown, so, choose the one which will perfectly suit your pet's fur.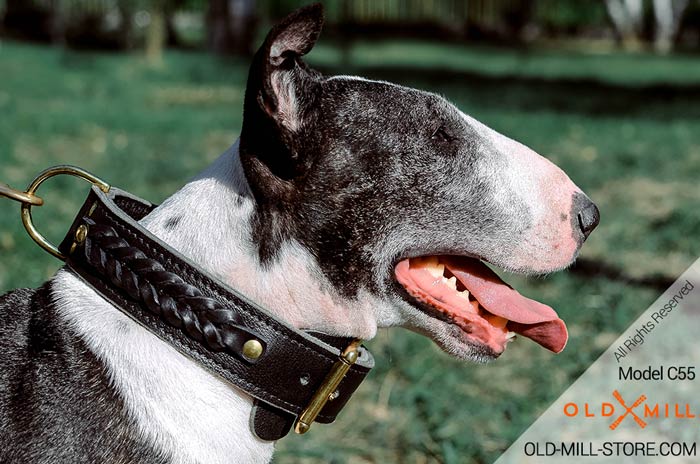 2ply Leather Braided Dog Collar for English Bull Terrier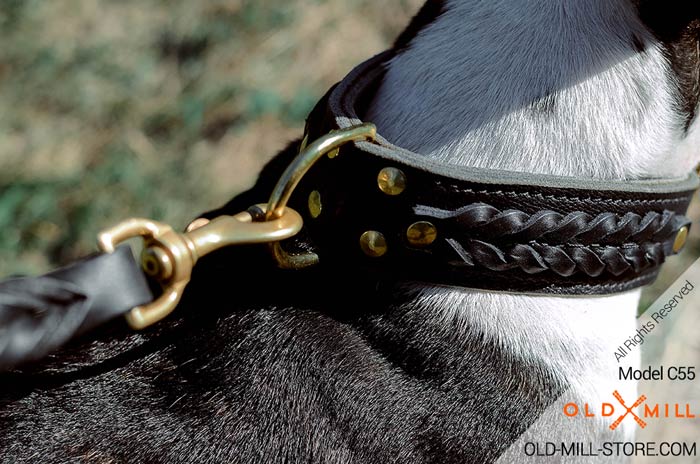 Double Leather Dog Collar with Brass D-Ring for Leash attachment