1 1/2 inch (40 mm) Superior Leather Dog Collar with Vintage Decorations for American Bulldog
The width of the collar, 1 1/2 inch (40 mm), allows you to control your dog during walk.
The designer dog collar is made of high quality solid genuine leather, that is why the item is time- and wear-proof.
Hand set rivets fix the fittings and adornment making them not only beautiful but also reliable.
The fittings, as well as decorations, don't rust.
The collar is equipped with a solid D-ring that is meant to attach the leash.
Use it for easy everyday walking, for training and travelling, for visiting guests and appearing public.
Wherever you go, it is still in need, because it is safe, reliable and durable.
This collar is available in different size from 14 to 40 inches and can be easily adjusted if your dog gains his weight.
This item is available in black, brown and tan colors. When ordering online mark the color you want to get!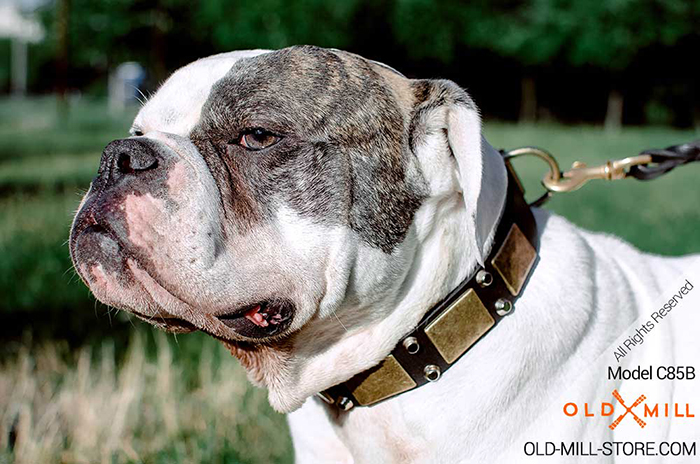 American Bulldog Collar with Vintage Plates and Studs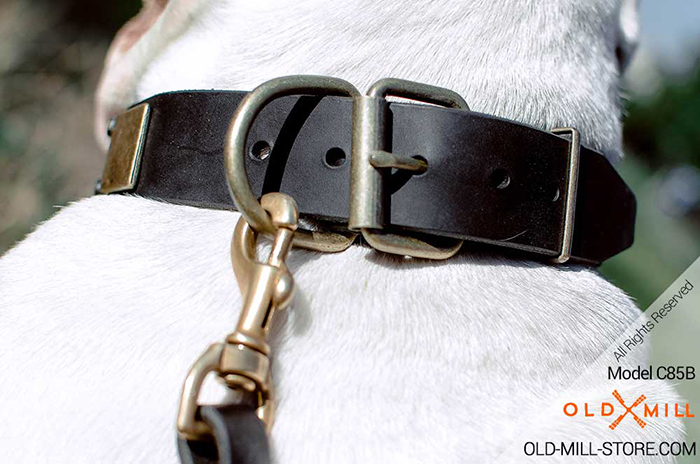 Fashion Dog Accessory with Strong D-ring

Wide Bulldog Collar with Vintage Brass Plates