1 1/2 inch (40 mm) Pink Leather Collar with Blue Stones for Mastiff
The collar is decorated with extremely beautiful blue stones which will prettify your Mastiff.
You will be amazed if you order this collar! It is made of soft, pleasant to touch, full grain genuine leather. Your Mastiff will not feel discomfort, there will be no irritations, allergies, fur and skin damaging, cuttings and things like that.
Due to the high quality of this collar, your Mastiff will be focused only on training process. Some dogs do not like to wear a collar but you can be sure that with this collar your Mastiff will not be bothered and she will like to wear it.
This collar is equipped with beautiful coins in the centre of which there are blue stones. All small parts of this collar are hand set and will not break or fall off during its exploitation. These decorations are rustless, therefore, if suddenly the rain begins and collar gets wet, it will not lose its beauty.
The hardware is steel nickel plated so rust and corrosion resistant. Strong buckle and D-ring will not fall off or break. A large D-ring allows quick attachment of both large or small snap hook of the leash.
Buy this collar and you will see that the company doesn't let its customers down.
A lot of customers tried this collar. So, now it is your turn to do this.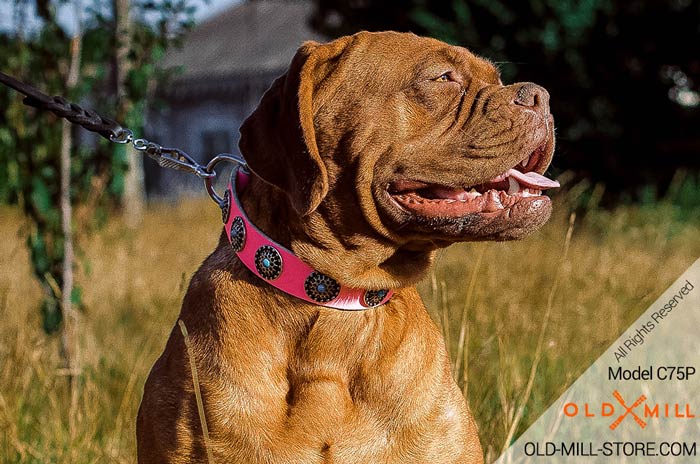 Fashion Leather Mastiff Collar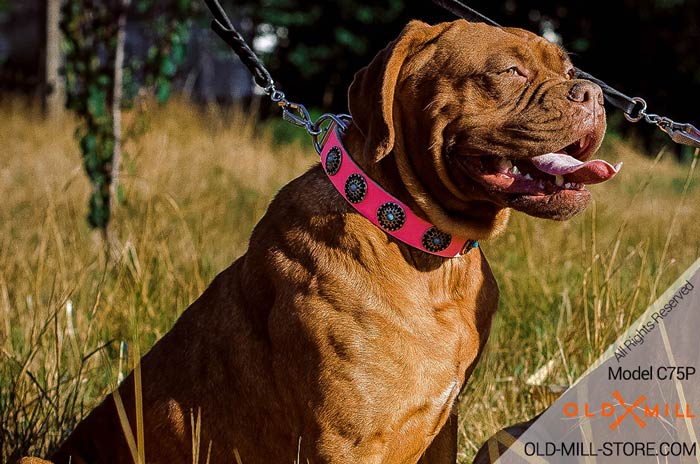 Pink Leather Mastiff Collar for Everyday Walking