"Pink Rose" 1 1/2 inch Wide Leather Collar with Spikes
Bring glamour and safety to your pet's life! This Leather dog collar will help you to keep a stunning appearance and style of your loyal friend during usual gloomy day walk and even during obedience training in the park.
Each collar is carefully handcrafted from the fabrication of leather to the fixation of metal hardware and decorative spikes. By the way, although the spikes look sharp and dangerous, in fact, they are rounded and polished so as not to harm your pet's skin.
Genuine leather is very durable. The inner side in white, the outer side is pink. There are no toxic dyes used. Due to special tequnique the colors will retain their brightness for years, so your pet can proudly flaunt in this wonderful accessory for very long.
This beautiful dog collar is available in 19 sizes. Get your pet's neck measurements and choose the size from 18 to 40 inch. Your collar will also have 5 holes and 2 inches extra to fit it exactly to your pet's neck.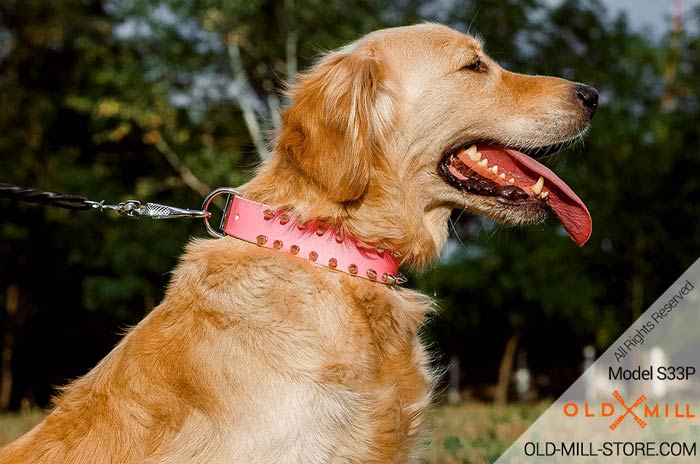 Pink Female Dog Collar for Golden-Retriever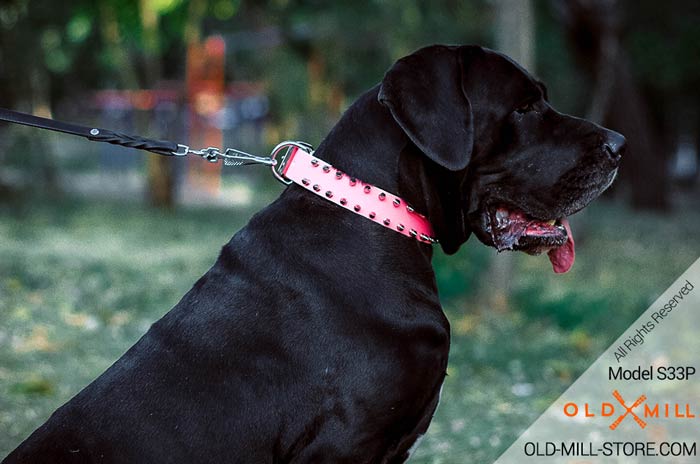 Pink Great Dane Collar with Silver-like Spikes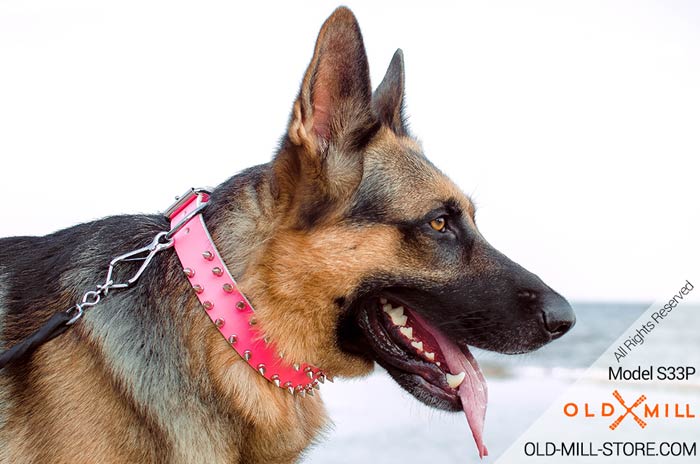 Pink Leather Spiked Girl Dog Collar for German Shepherd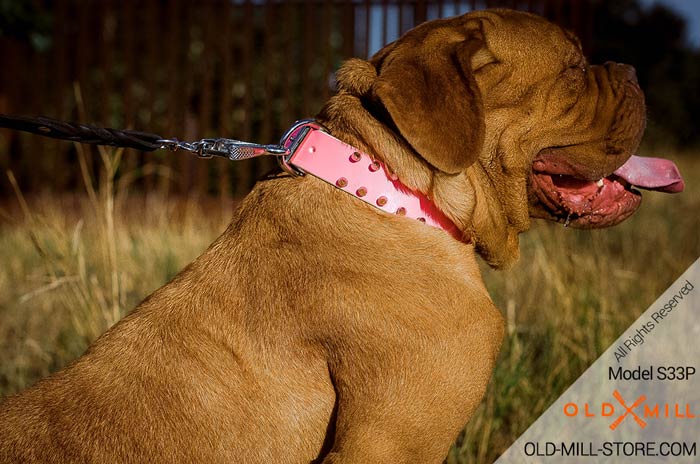 Fashion Pink Leather Dog Collar for French Mastiff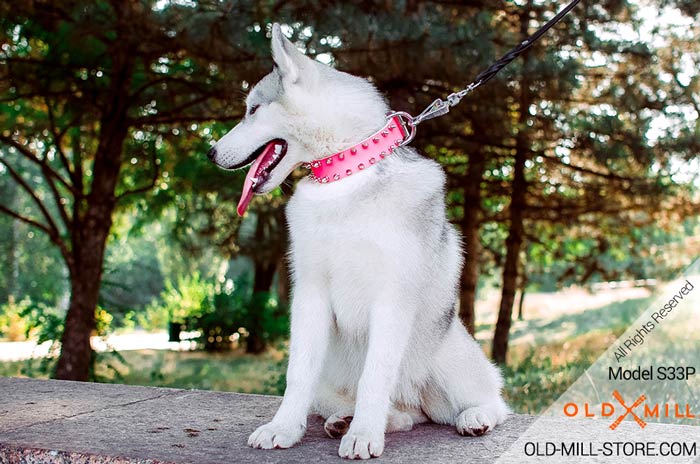 1 1/2 inch Wide Pink Leather Collar for Siberian Husky
Ready to ship in 3-7 business days
Dear Customer,
Please, pay your attention that the production time of the different collars/leashes may vary
from 3 to 7 days
.
Each collar/leash you choose is
handcrafted
. So, the production time depends on the complexity of the design you prefer.
Thank you for your interest to our products and for your understanding of the painstaking process.
As a result you will get a
designer's exclusive dog gear
.
Shipping cost for the USA orders
| Order total | $0-$6.98 | $6.99-$20 | $20.01-$98 | $98.01-$199 | $199.01-$349 | $349-UP |
| --- | --- | --- | --- | --- | --- | --- |
| UPS ground (1-5 business days on average) | $4.99 | $6.49 | $9 | $14.90 | $19.90 | $19.90 |
| USPS air delivery (3-5 business days on average) | $18.99 | $18.99 | $18.99 | $24.90 | $29.90 | $34.90 |
Shipping cost for International orders (outside the USA)
| Order total | $0-$6.98 | $6.99-$20 | $20.01-$98 | $98.01-$199 | $199.01-$349 | $349-UP |
| --- | --- | --- | --- | --- | --- | --- |
| USPS air delivery (3-7 business days on average | $27.95 | $27.95 | $27.95 | $44.90 | $49.90 | $59.90 |