1 1/2 inch (40 mm) Wide White Leather Dog Collar with Spikes and Vintage Plates for Boxer
This collar is durable and will serve your dog long. This white collar is not only beautiful but it is also safe for your dog`s health.
Being made of wide soft genuine leather, it brings the dog utmost comfort and absence of unpleasant feelings, such as irritation or rubbing. Thick leather ply makes a strong construction that guarantees a full control over your dog.
This fashionable white leather dog collar is decorated with sparkling brass spikes and vintage plates that create an appealing everyday look of your pet.
This item is strong and reliable. It has a perfect width for more comfort of your dog.
The hardware of this collar is rustless. This means that no matter what the weather will be this collar will serve your dog long saving its beauty.
This white leather collar with decorations is wide and strong enough to control your Boxer during walking.
There is a wide range of sizes, which vary from 18 to 40 inches.
Get this white leather collar for your female canine!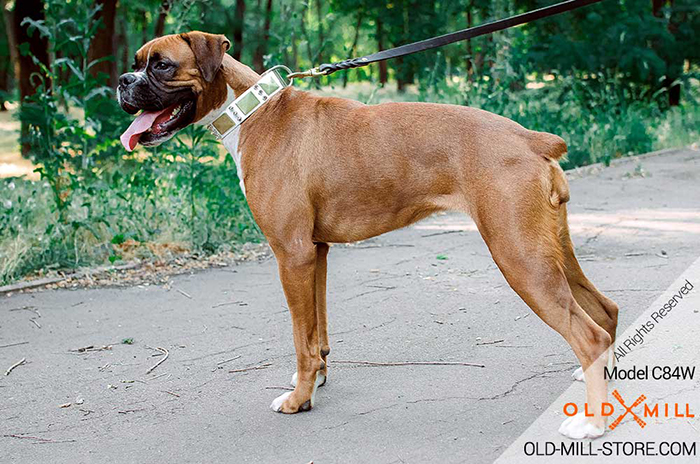 Boxer White Leather Collar with Old Massive Plates and Spikes

Fashion White Leather Dog Collar with Vintage Plates and Silver-color Spikes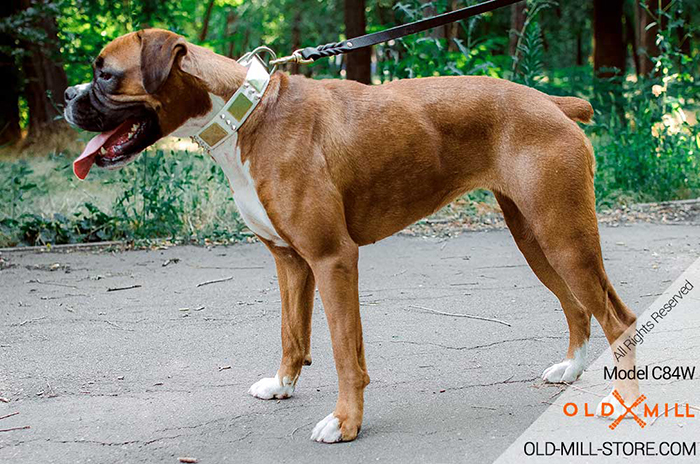 Boxer White Leather Collar with Vintage Plates
Ready to ship in 3-7 business days
Dear Customer,
Please, pay your attention that the production time of the different collars/leashes may vary
from 3 to 7 days
.
Each collar/leash you choose is
handcrafted
. So, the production time depends on the complexity of the design you prefer.
Thank you for your interest to our products and for your understanding of the painstaking process.
As a result you will get a
designer's exclusive dog gear
.
Shipping cost for the USA orders
| Order total | $0-$6.98 | $6.99-$20 | $20.01-$98 | $98.01-$199 | $199.01-$349 | $349-UP |
| --- | --- | --- | --- | --- | --- | --- |
| UPS ground (1-5 business days on average) | $4.99 | $6.49 | $9 | $14.90 | $19.90 | $19.90 |
| USPS air delivery (3-5 business days on average) | $18.99 | $18.99 | $18.99 | $24.90 | $29.90 | $34.90 |
Shipping cost for International orders (outside the USA)
| Order total | $0-$6.98 | $6.99-$20 | $20.01-$98 | $98.01-$199 | $199.01-$349 | $349-UP |
| --- | --- | --- | --- | --- | --- | --- |
| USPS air delivery (3-7 business days on average | $27.95 | $27.95 | $27.95 | $44.90 | $49.90 | $59.90 |