1 1/2 inch (40 mm) Pink Leather Collar with Blue Stones for American Bulldog
This Pink Leather Dog Collar with Studs and Blue Stones is an excellent example of style, quality and functionality combined together. It is good for walking and basic training so we can say with confidence that it is an indispensable daily equipment.
It is manufactured in the same way as high quality long servicing product. However, it is in new bright color so now this model is more glamourous and girlish. No more questions about the sex of your dog as it will be obvious that you have a wonderful female dog, gracious and stylish.
The collar is decorated with extremely beautiful blue stones which will prettify your American Bulldog.
The collar is made of soft, pleasant to touch, full grain genuine leather. This means that your American Bulldog will not feel discomfort, there will be no irritations, allergies, fur and skin damaging, cuttings and things like that.
All small parts of this collar are had set and will not break or fall off during its exploitation. These decorations are rustless, therefore, if suddenly the rain begins and collar gets wet, it will not lose its beauty.
The hardware is steel nickel plated so rust and corrosion resistant. Strong buckle and D-ring will not fall off or break. A large D-ring allows quick attachment of both large or small snap hook of the leash. Measure your dog carefully and order the size from 14 to 40 inches.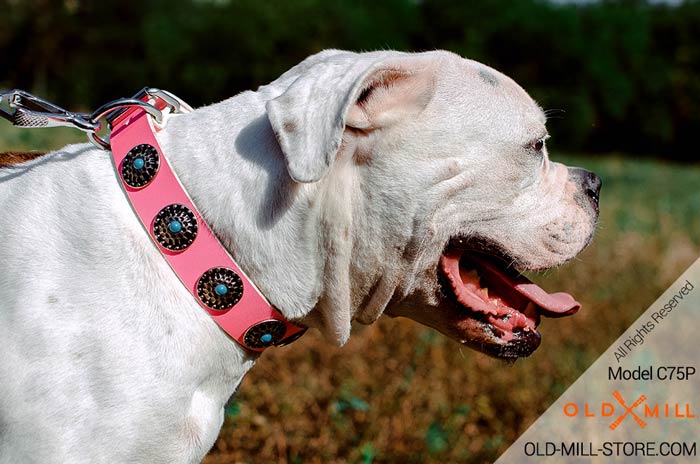 Fashion Leather American Bulldog Collar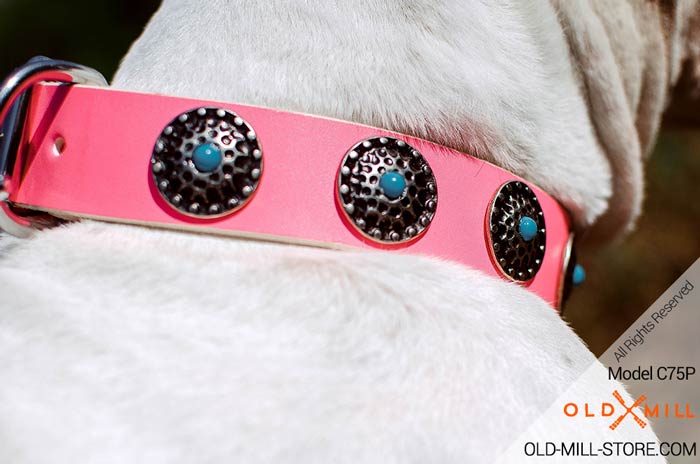 Pink Leather Bulldog Collar with D-Ring for leash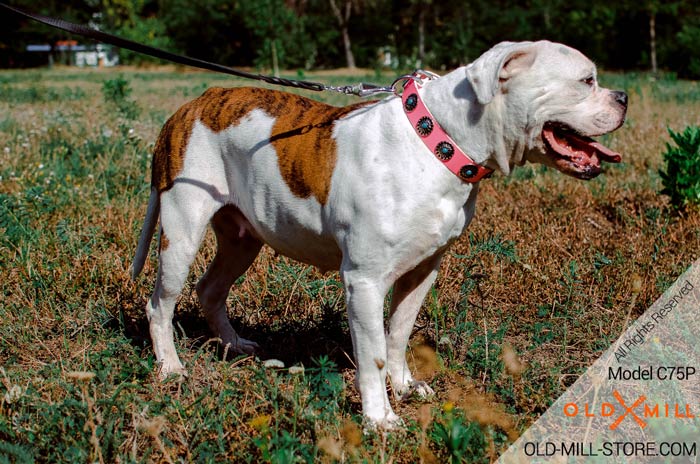 Pink Leather Dog Collar for Evereday Walking